Between hosting the Democratic presidential debate and celebrating alumnus Zach Johnson's British Open win, 2015 was an exciting year for Bulldogs. With 2016 on the horizon, we look back on the top five stories of the year—as determined by views on the Drake newsroom.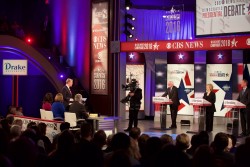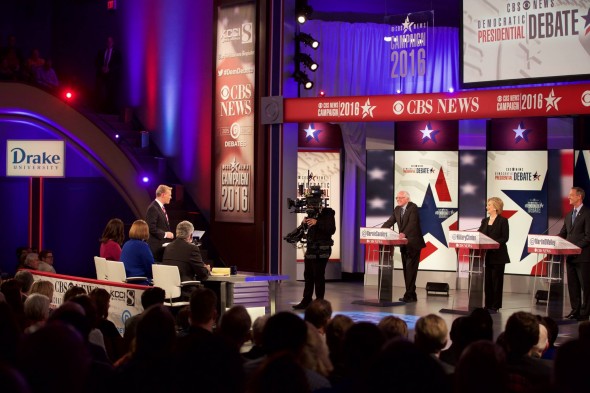 In November, Drake University's Sheslow Auditorium was transformed into the stage for the second Democratic Presidential Debate. Students and faculty alike watched Hillary Clinton, Bernie Sanders, and Martin O'Malley tackle matters of foreign and domestic policy. But beyond the lights and cameras of Sheslow, Drake itself became a political hotbed for the weekend, with journalists and political analysts arriving in droves. More than 60 students worked alongside Twitter, CBS, and the Democratic National Committee to organize the weekend's events, and hundreds more attended watch parties and other campaign events.
Senior Mariah Lewis introduced the pre-debate guest speakers over the public address system in Sheslow, while senior Austin Cannon was among a small group of students to have dinner with Yahoo News' Chief White House Correspondent Olivier Knox. Joel Venzke, a senior, was one of just five photographers who received credentials to photograph the debate. Over 300 other students attended Student Senate's Politics and Pancakes event to mingle with campaign staff and reporters from organizations like CBS News, National Public Radio, and The Des Moines Register. Several students were also co-panelists for NPR's "Michel Martin: Going There," and discussed issues of importance to young voters. In addition, 40 prospective students experienced the political connections Drake offers by touring the debate set and spin room after hearing a speech from Democratic National Committee Chairwoman Debbie Wasserman Schultz.
For the seventh year in a row, U.S. News & World Report ranked Drake third for overall quality among Midwest master's institutions. Drake was also placed among the top colleges for value, academic quality, commitment to undergraduate teaching, and excellence for military veterans. Only six out of 618 other master's institutions obtained a higher peer-generated ranking for academic quality, while five received equivalent rankings. Drake also earned a fifth-place rank on the regional "Best Undergraduate Teaching" list, partially based on an annual survey completed by fellow university presidents, provosts, and admissions leaders.
Drake junior is youngest person to ever earn top actuarial designation 
Roy Ju, a 20-year-old junior at Drake, received the Society of Actuaries' top professional designation (Fellow of Society of Actuaries) in August, becoming the youngest person ever to do so. Ju is now one of over 15,900 Fellows around the world after completing a series of exams, professional seminars, and other academic requirements. Despite lots of time spent studying and reading on his own, Ju credits Drake and his internship with The Principal Financial Group for helping him achieve the highest professional designation in the actuarial field.
Ju is currently pursuing a degree in Finance, with plans to minor in Economics. He has been employed with Principal as an assistant actuarial analyst since February 2014. Following an anticipated spring 2016 graduation (after only three years), Ju will start a full-time position with Principal as an actuarial analyst.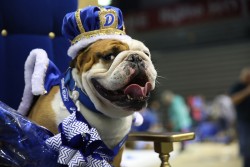 Tank, a 2-year-old English bulldog from Des Moines, was named the official mascot of the 106th Drake Relays after winning the 36th Annual Beautiful Bulldog Contest at Drake in April. Tank's owner, Duane Smith, discovered the charismatic canine on Craigslist in 2014. During the competition, Tank wore camouflage and a military-style helmet, standing out from the other competitors in his no-nonsense costume. He charmed not only the judges, but also the world, garnering media coverage of US News & World Report and The Daily Mail, among other national and international news outlets.
Also this year, the Drake family welcomed another new bulldog—Griff, the university's official live mascot. He's proud, he's cuddly, he's beautiful, and the Drake community loves him; but unlike Tank, he hasn't made international headlines. (Yet.)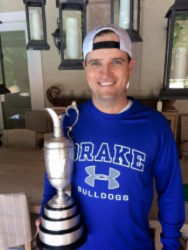 In July, Drake alumnus Zach Johnson, BN'98, won the 144th Open Championship after a tense four-hole playoff. Following his win, Johnson snapped a quick selfie with the The Open Claret Jug, sporting a Drake Bulldogs shirt and texted it to the new Drake president, Earl F. "Marty" Martin. After being shared on Twitter by Martin and posted to Facebook by the University, Johnson's selfie quickly became Drake's all-time most-seen Facebook post.