Drake University students Alliyah Greaver, Jamie Wall, Katie Berger, and Gabriella Gugliotta stood in a courtyard at San Quentin State Prison, one of the most famous penitentiaries in the United States. They soaked in the scene—four huge cell blocks and one smaller maximum security block; a high guard tower; an assortment of service buildings. They could see a small cage atop death row, where inmates play basketball while awaiting execution dates. On the opposite side of the prison was San Francisco Bay, glimmering out of sight of most of the 4,000 inmates who call San Quentin home.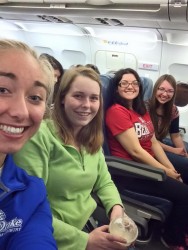 Standing with the students was Watani Stiner, a former inmate who was returning to the prison grounds for the first time since his release more than a year prior. Stiner pointed to a high row of windows, and spoke of rare occasions on which he could look out from the prison and watch cars cross the bridge over the bay.
"He said those cars had been a symbol of freedom for him," recalls Greaver, a sophomore from Yankton, South Dakota, double-majoring in Religion and Law, Politics, and Society. "He imagined some day he'd be able to drive across that himself."
The moment hit home for Greaver: She and her peers, led by Associate Professor Renee Cramer, had crossed that bridge in a van with Stiner and another former inmate less than an hour ago, thinking nothing of it.
It was one of many thought-provoking moments during the visit to San Quentin. Cramer and the four Drake students were among a small, invitation-only group to attend a taping of Life of the Law, a podcast hosted by American Public Media. During the taping, a prison staff member, prison volunteer, eight inmates, and two former inmates told stories of their life in the prison.
The episode, called "San Quentin: A Whole 'Nother World," airs December 25 on the Life of the Law website. For the first time, the public will be able to hear the stories that linger in the live audience's minds: the heroin-addicted neo-Nazi who had a change of heart during a Shakespearean theater course in San Quentin and ended up playing Julius Caesar opposite "men of all genders and races;" the murderer who learned to parlay his mother's own suffering into compassion for the families of the victims he'd killed.
All four Drake students had visited a prison before; a "Crime and Punishment" course taught by Assistant Professor Will Garriott takes students on a tour of the women's facility in Mitchellville, Iowa. But the atmosphere in San Quentin was different. When the students passed through a final security checkpoint, they were met by a "receiving line" of inmates and prison staff ready to shake their hands.
"Sometimes when visiting a prison, it's like they're expecting you to give something of the outside world," says Greaver. "But here they wanted to give something back to us—to make us feel comfortable, to thank us for coming, and to share their stories."
Wall, a sophomore Sociology and Law, Politics, and Society major with a minor in Biology, swapped classroom stories with an inmate. They found they were both exploring various models of ethics and their application to the judicial system.  Another inmate asked about state gun laws—an armed robbery in California had landed him 10 years in prison for every person in the store at the time of the crime, and he wondered if the sentence in Iowa would have been similar.
It was late in the evening by the time students returned to the hotel, and they had an early flight out in the morning. Cramer stayed up with them for an hour and a half, digesting all that was swirling in their heads: the shared humanity between the inmates and free people; the viability of rehabilitation; the need for education—not just in the prison system but also to address systemic issues that lead to imprisonment; the importance of teaching emotional intelligence.
The students plan to host a public event on campus in February to share the lessons they learned during their trip, which was funded by the College of Arts and Sciences and the Slay Fund for Social Justice at Drake University. Details on that event are to be determined.