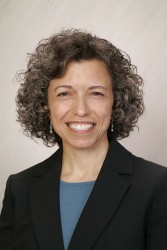 Drake University President Marty Martin, on behalf of the University, is pleased to announce the appointment of Sue J. Mattison to the position of provost. A search committee of faculty, staff, and students who reviewed more than 70 candidates in the course of a nearly six-month search process recommended Mattison, a University of Wisconsin-Green Bay administrator with deep ties to Iowa. Her appointment will take effect in summer 2016.
Reporting to the president, Mattison will oversee the Des Moines, Iowa, university's academic division, which includes more than 70 programs of study and approximately 280 full-time faculty, as well as Cowles Library, the Office of Student Life, and other related University operations.
As provost, Mattison will be responsible for ensuring and enhancing the quality of undergraduate, graduate, and professional education at Drake through the pursuit of excellence in teaching and learning, scholarship, and service to the community. She will take a leadership role in major University initiatives including STEM@DRAKE, which involves more than $50 million in construction and renovation projects and the launch of six new academic programs.
"Mattison brings a wealth of academic and leadership experience to her role as provost," said Martin. "She has demonstrated a passion for higher education and a commitment to global citizenship and the integration of liberal arts and sciences with professional preparation—elements that are central to Drake's mission. We welcome her to the Bulldog family and appreciate her contagious commitment to the quality of the student experience and to the integrity of the University's academic core."
Mattison has served as dean of the College of Professional Studies at the University of Wisconsin-Green Bay since 2011. Prior to joining the administration at UW-Green Bay, she served in faculty and administrative roles at the University of Northern Iowa for 21 years. She was hired as a graduate assistant at UNI in 1986, hired to the faculty in 1990, served as associate dean of academic affairs at the Graduate College 2005–2007, and assumed the deanship from 2007 to 2010. She was director of the School of Health, Physical Education, Leisure Services, and Athletic Training from 2011 to 2012. She also served as an adjunct professor in the College of Public Health at the University of Iowa from 2000 to 2012.
Mattison's passion for strengthening academic programs while promoting intellectual vitality will be important in supporting the Drake campus community's efforts to achieve the University's aspirations and to ensure that Drake continues to fulfill its mission promise to provide an exceptional learning environment.
"I am delighted that Sue Mattison has accepted our offer to lead us as provost," said Darcie Vandegrift, search committee chair and associate professor of sociology at Drake University. "She is an outstanding fit with Drake University, holding all of the qualities we sought in a chief academic officer. She joins us as a confident, consensus-building servant-leader. Mattison has significant accomplishments in recruitment and retention of a diverse student body, staff, and faculty. Her experience of making crucial decisions guided by a shared educational mission is a valued strength she brings to the position. The academic and student affairs divisions of Drake University will grow and flourish under her leadership."
Mattison holds bachelor's and master's degrees from the University of Northern Iowa and a doctorate degree from the University of Iowa. As a tenured professor she has published and presented extensively in areas related to epidemiology. During her time as dean in UW-Green Bay's College of Professional Studies, Mattison has shown a commitment to shared governance, mission-driven success, and diversity among faculty, staff, and students.
"Drake University has an outstanding reputation within Iowa, across the United States, and internationally," Mattison said. "I share a passion for the institution's stated mission of preparing students as engaged and responsible citizens, and its institutional values of civility, academic integrity, and freedom of thought and inquiry. I am so excited and honored by this incredible opportunity."
Mattison will succeed Joseph Lenz, who has served in an interim capacity since June 1, 2015. Lenz has been at Drake since 1982, and served as dean of the College of Arts and Sciences prior to stepping in as interim provost for the 2015–2016 academic year. He will return to his position as dean in summer 2016.
Drake's mission is to provide an exceptional learning environment that prepares students for meaningful personal lives, professional accomplishments, and responsible global citizenship. The Drake experience is distinguished by collaborative learning among students, faculty, and staff and by the integration of the liberal arts and sciences with professional preparation.