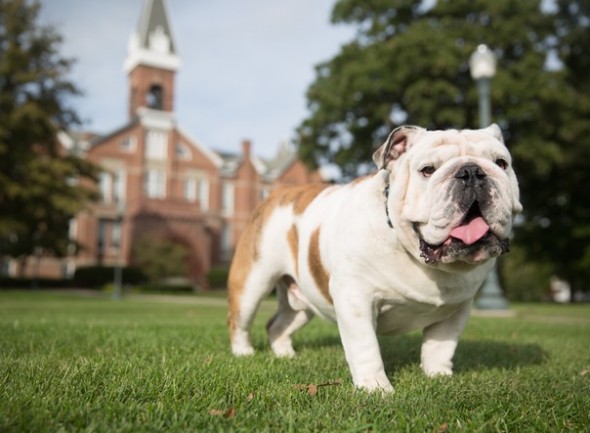 The Drake University community met its new live bulldog mascot on Thursday. Griff, a retired show dog, is ready for the limelight as the University's furry ambassador for athletics events, student celebrations, and community festivities. (Follow him on Twitter: @DrakeUGriff)
Drake University President Marty Martin, Student Body President Kevin Maisto, Athletic Director Sandy Hatfield Clubb, and Live Mascot Director Erin Bell introduced Griff to a large crowd of Drake students, faculty, and staff members during a campus celebration in Drake's Helmick Commons.
"Our new live mascot will embody the virtues of a Bulldog, unite our campus community, and inspire new levels of school spirit," President Martin said. "He is a great addition to our family."
Drake officials announced in April that the University would begin its search for a new live mascot to walk in the pawprints of Porterhouse, a 2009 Beautiful Bulldog Contest winner who served as Drake's official live mascot until he passed away in December 2013.
After months of searching, Bell—who owned Porterhouse along with her husband, Kevin—locked eyes with Griff. Immediately they knew he had the right combination of looks, charm, confidence, and kindness to represent the university.
"It was love at first sight," Bell said. "He loves people and can't get enough attention. He's a sweet and gentle guy—all the stars aligned when we saw him."
Bell shuttled Griff into Thursday's celebration in a custom-designed car donated for the live mascot by Mercedes-Benz of Des Moines; a stylish flourish that complements the personality of a dog that cherishes the spotlight. Griff was born in Canada and moved to Iowa when he was 3 months old. He wowed the competition on the American Kennel Club dog show circuit under the supervision of his former owner, who prefers to remain anonymous, before recently retiring from competition. Now, at age 3, he still loves the spotlight—and he has plenty of it ahead.
A committee of representatives from across the Drake campus selected the name Griff in honor of John L. Griffith, who served as the university's athletic director from 1908 to 1918. Among Griffith's contributions to the university: He organized a track-and-field meet in 1910, in a blizzard, that became the first-ever Drake Relays. Today the meet is one of the nation's pre-eminent high school, collegiate, and elite meets, and draws leading athletes from around the world.
But another of Griffith's legacies is even more central to Drake's identity and reputation. When Griffith arrived at Drake, the sports teams were known as "The Drakes." Griffith, who coached football and track, owned two English bulldogs and brought them with him to football practices and games. The bulldogs were so popular among students and fans that a writer from The Des Moines Register began referring to Drake as the Bulldogs, and the name stuck.
"You could safely say that without John L. Griffith, we would not be the Bulldogs," said Clubb. "A century later, we know that the bulldog is the perfect mascot for Drake University—it might be small, but it's fearless, and it's perfectly aligned with the personality of this institution. That's why we're so excited to have named the mascot Griff."
Just as John L. Griffith showed Drake University its true identity— and the late live mascot Porterhouse showed the campus a new level of unity and school spirit— Griff is ready to show Drake what he's made of, said Maisto, the student body president.
"If you met Porterhouse, you know the impact that a live mascot can have on school spirit," said Maisto. "I remember how the crowds in the Knapp Center cheered when Porterhouse stepped onto the court. When he was on campus, students crowded around him like a celebrity—or a presidential candidate. Porterhouse radiated that pride, excitement, loyalty, and kindness that unites all Bulldogs. I know that Griff will bring that same excitement to campus."
BONUS: Here's a photo of baby Griff.