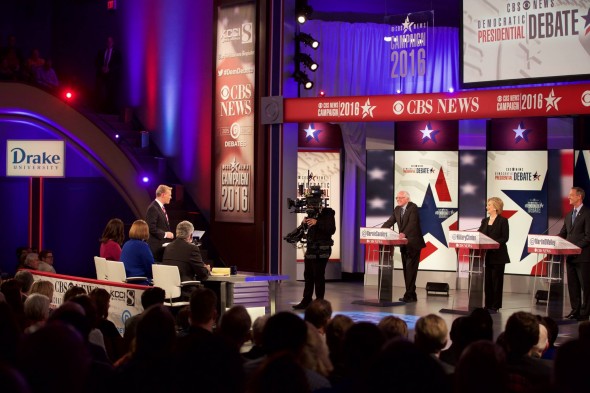 This month, 8 million Americans watched as three Democratic presidential hopefuls sparred over foreign policy, economics, and other major issues from the Jordan stage of Sheslow Auditorium at Drake University.
Yahoo live-streamed their Digital Democracy conference, broadcast from Parents Hall in Olmsted Center, where Republican candidate Rand Paul sank into a white leather couch as he delved into an in-depth discussion of government surveillance, drone warfare, and personal privacy.  More than a dozen leading journalists, policymakers, and digital strategists, including an architect of the revised Healthcare.gov website, would settle into that same couch that afternoon.
But for students including Drake senior Mariah Lewis, the biggest moments of the debate week—and related events, like NPR's broadcast from Sussman Theater featuring Michel Martin, two Drake students, an alumnus, and a professor—unfolded not on stage, but behind the scenes.
More than 60 students worked with Twitter, CBS, the Democratic National Committee, and other organizations to orchestrate the events on campus. Hundreds more students participated in watch parties, campaign events, and other campus activities.
"These opportunities are unique at Drake, and something we should be proud of as a university," said Lewis, a Broadcast News and English double major.
Lewis' job on Saturday evening was to introduce the pre-debate guest speakers over the public address system in Sheslow Auditorium. It was a big opportunity, but as a deejay for several Des Moines radio stations she felt prepared. There was just one catch—she had to leave her friend's wedding reception after only one hour, skipping out on the meal in favor of a quick bite to eat and wardrobe change at a Long John Silver's. She made it to Sheslow just in time.
"Once my work was finished, the event team took me upstairs and I got to watch the debate from the balcony," Lewis said. "It was a really unexpected surprise."
Drake senior Austin Cannon had a memorable dinner in Hubbell Dining Hall. After two days as a volunteer with Yahoo's production team, the politics and news-internet journalism major was among a handful of students who dined with Yahoo News' Chief White House Correspondent Olivier Knox.
"He really wanted to spend time with us and get a good idea of what was going on in Iowa," Cannon said. "We were asking him all sorts of questions about how he got to where he is, what it's like to cover the White House."
Other memorable moments played out over breakfast. More than 300 students attended a Politics and Pancakes event hosted by Student Senate on Saturday morning; each received a stack of pancakes, a cup of coffee, an opportunity to mingle with campaign staff, and a share of the international media spotlight. Reporters from BBC News, NBC News, CBS News, National Public Radio, The Des Moines Register, and the Atlanta Journal Constitution eagerly interviewed students.
Also in attendance were 40 high school students from seven states, all of whom were interested in studying politics. They heard a speech from Democratic National Committee Chairwoman Debbie Wasserman Schultz, snapped selfies with Drake's live bulldog mascot, Griff, and took a behind-the-scenes tour of the debate set and spin room.
"Some schools try to recruit football players and give them sweet tickets. Other schools recruit political nerds and give them goodies like going on a tour of the debate stage," one of the prospective students, 19-year-old Jackson Blanchard of Indianapolis, told a reporter from Mashable, who chronicled the event in a story titled, "Young political junkies look to Iowa, not Washington D.C. for college."
Students from across the political aisle collaborated on campus events and participated in a variety of opportunities throughout the week. Raymond Starks, a senior politics and quantitative economics major from Delhi, Iowa, represented a conservative viewpoint on NPR's broadcast of "Michel Martin: Going There" from Sussman Theater on Nov. 10. He enjoyed discussing issues of interest to youth voters with co-panelists Brandi Dye, a Drake sophomore and Crew Scholar; Hector Salamanca Arroyo, a Drake alumnus and DREAMer organizer; and Associate Professor of Politics Rachel Paine Caufield.
"Iowa is considered pretty homogenous, and you don't always get to hear the perspectives of people with different backgrounds, life experiences, or views," Starks said. "I think it's good for us to have those discussions, to hear views with which we may not agree."
Though the stories of debate week could go on and on, one final story comes from Austin Cannon. In the days since he'd dined with Yahoo's Olivier Knox, he'd volunteered to sacrifice his ticket to Saturday's debate in order to work all day with a production team from The Daily Show. Now it was Saturday evening, and Cannon stood in Kern Commons, a study area and lounge in Cartwright Hall that journalists, analysts, and campaign representatives had transformed into an area for post-debate commentary and analysis.
Fitting that this area was dubbed the media "spin room," because Cannon's head was spinning. The Daily Show White House Correspondent Roy Wood Jr. was filming a segment. The chair of the Iowa Democratic Party walked by. He could see Sen. Claire McCaskill, one of his favorite politicians, across the way; at some point, he'd crossed paths with another icon, Time magazine senior political analyst Mark Halperin.
"If you paid attention, any attention at all to politics or political journalism, everywhere you looked you could see people that you recognized, whose work you read or watch. That was cool for a journalism student like me," Cannon said. "I didn't know this when I enrolled, but this is the reason you come to Drake."
See more behind-the-scenes images in our Flickr gallery.