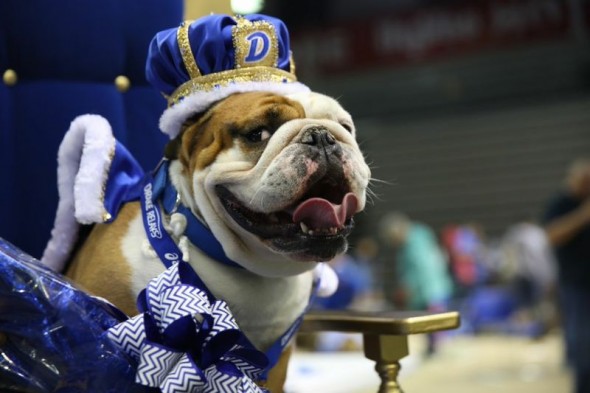 When Duane Smith adopted a sturdy bulldog named Tank from Craigslist last year, he knew instantly that he had a canine worthy of competing in today's 36th Annual Beautiful Bulldog Contest at Drake University.
Smith's instincts were correct. Judges named 2-year-old Tank the contest's top dog and the official mascot of the 106th Drake Relays. Now, just a few hours after winning, he's already making headlines in national and international news outlets.
"He loves to play tug of war, he's friendly with the neighbors—he's a great dog," Smith, of Des Moines, told media this afternoon as Tank mugged for cameras on the contest's royal purple-and-gold throne.
Many of the dogs were dressed in elaborate costumes that ranged from ladybugs to pirates to gift-wrapped packages—even a yellow Minion from the Despicable Me film series.
Tank donned camouflage and a military-style helmet during the pageant, sending a clear signal that he was ready for the challenge. When summoned back to the catwalk as one of three finalists, he doffed his costume and showed his natural beauty.
"Tank has just got a great look to him," said Drake University Athletic Director Sandy Hatfield Clubb, a judge for the contest. "Great coloring, nice stature, that classic bulldog face with bottom tooth that sticks out just right. And he's kind and gentle, which is equally important."
A record-setting crowd of about 1,400 spectators watched 50 English bulldogs compete in the pageant this year in The Knapp Center at Drake University. Canines from eight states competed, including far-away locales like Tennessee and New Jersey.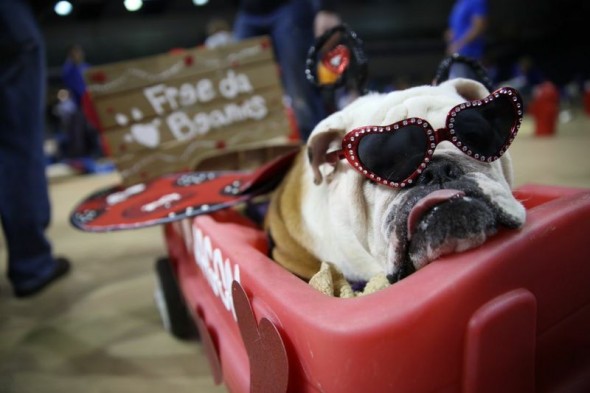 Georgia Love, an 11.5-year-old bulldog from Memphis, Tenn., attended the contest with her 5-month-old French bulldog sister Emmy and her owner Star Ritchey.
On typical days she is the sweet and athletic mascot for Ritchey's running group; today, she wore a white party dress with multicolored paw prints.
"Georgia believes in celebrating every day," Ritchey said. "So we just thought, let's do this."
The memory of Drake's former live mascot Porterhouse, who won the 2009 Beautiful Bulldog Contest, continued to inspire pet owners from across the country to participate in the competition. Ronnie Sussman drove 17 hours from Union, New Jersey, with his pup Coach in honor of Porterhouse and to show support for rescue animals.
"It's just such a fun event and everyone has been so welcoming," Sussman said.
As the official 2015 Beautiful Bulldog, Tank will make appearances at Drake Relays-related events throughout the week. A schedule of Relays activities is online at www.drake.edu/relays.
In addition to Tank, seven other contestants from four states shared awards in eight categories:
Runner Up: Steve, a second-time contest competitor who this year amused audiences by refusing to walk the pageant catwalk, owned by Bruce Myers of Des Moines. *Also voted Porterhouse People's Choice.
Second Runner-up: Scruffy, a yoga ball-loving canine who calls himself Drake's No. 1 fan, owned by Elizabeth Ahrens of Lee's Summit, Mo.
Drake Spirit: Sweet Sassy Molassy, a 1-year-old sweetheart who loves to snuggle, owned by Janalyn Phillips of Waukee, Iowa.
Family Theme: Billy, an eye patch-sporting pirate who plundered the catwalk on a pirate ship sailed by his owner, Natasha Jodoin of Altoona, Iowa.
Congeniality: Princess Mabel Duchess of Johnston, whose blinking blue hair extensions matched those of her owner, Christina Gatto of Des Moines.
Best Dressed: Linus the Lovebug, a rescue bullie with heart-shaped sunglasses and glittery ladybug wings, owned by Rebecca Richardson of Washington, Ill.
Rescue Dog Recognition: Pudge, who was rescued in Memphis, Tenn., and fostered by two recent Drake alumni who were inspired by the University's late live mascot, Porterhouse. Owned by Maria Zhorne of Memphis.
For more information, or for members of the media seeking photos or video footage from the competition, please contact Aaron Jaco at aaron.jaco@drake.edu or 515-779-0526.