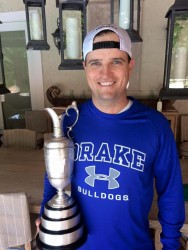 That sound you heard in the early afternoon of July 20 was the gentle rattle of a golf ball falling into the cup, followed by a roar of Bulldogs cheering in unison.
The Drake community sent up a collective hurrah for Zach Johnson, BN'98, who won the 144th Open Championship following a four-hole playoff. His win at the famed Home of Golf made him one of only six players ever to win the Masters Tournament—he captured the green jacket in 2007—and the Open Championship at the Old Course in St. Andrews, Scotland.
Always a proud Bulldog, Johnson promptly donned a Drake Bulldogs shirt, snapped a selfie with The Open Claret Jug, and texted the photo to Drake University President Earl F. "Marty" Martin.
Martin tweeted the photo from his @DrakePresident handle and Drake University reposted it to Facebook, where it became the University's all-time most-seen post. The photo has been shared 433 times and seen by nearly 100,000 people as of July 30.
More than 1,500 people "liked" a separate post about Johnson's win from Drake Athletics' Facebook page while alumni, students, and friends of the University sent congratulatory messages to the gracious golfer.
Johnson has maintained a close relationship with his alma mater since he earned his degrees in business management and marketing. He is the recipient of Drake's Young Alumni Achievement Award, which is given to alumni age 40 and younger for outstanding achievement in a career or profession, and the Double D Award, the highest honor Drake bestows on its former student-athletes.
"I cherish my years in Des Moines and I am proud to be a graduate of such a prestigious school," Johnson said after receiving the Double D Award in 2010.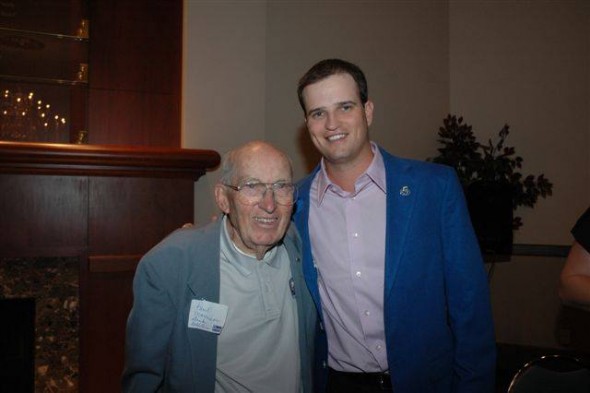 In 2006, Johnson selected Drake as the recipient of a $100,000 gift made by the PGA of America on his behalf. The gift funded "Golf: For Business & Life," a non-credit course that teaches Drake juniors, seniors, and graduate students with little or no golf experience to play the game and leverage it as an important business tool.
Johnson has also been invested in his hometown of Cedar Rapids. When heavy rains caused flooding in the Midwest in the summer of 2008, Johnson served as the spokesman on a public service announcement and held a one-day golf event in Cedar Rapids that raised $350,000. In 2010, he announced the formation of the Zach Johnson Foundation to benefit children in need in Cedar Rapids.
"I am beyond proud to be a Drake bulldog,"Johnson said in 2007, when he returned to Drake for a celebration of his Masters win. "Drake's all about the people. It's the friendships that I had here that are still going…I have a lot of good memories of times that were very special to me—on the golf course, in the Knapp Center and Bell Center, not so much in class. I wish my four years had been extended a little longer."
At the same celebration, Johnson succumbed to on-the-spot pressure from Drake University Athletic Director Sandy Hatfield Clubb—signing a letter of intent for his then-four-month-old son Will. "This is awesome," he joked as he signed the letter. "This is the youngest commitment in recruiting history."
— This article was published July 20 and updated July 30 with additional photography and statistics on social media engagement.