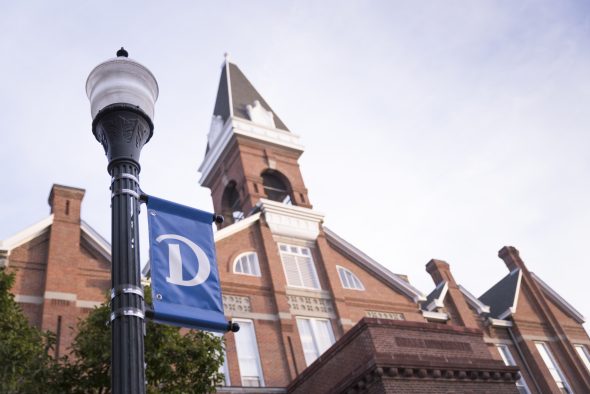 Drake University hosts hundreds of public lectures, concerts, conferences, and other cultural events annually—and this is a particularly exciting time of year on campus. With so much going on at Drake during the next couple of weeks, there's something to keep everyone intellectually stimulated. Here's a quick reference guide to some of the most high-profile events through the week ending April 15.
Wednesday, March 28

Opening Reception: "We Knew Him When: An Exhibit on Jay N. Darling" 7 p.m., Cowles Library Reading Room.
Guest speakers will celebrate the opening of a new exhibit on the life and work of Drake honorary degree-holder Jay N. "Ding" Darling, a two-time Pulitzer-prize winning political cartoonist and environmental conservationist. The exhibit runs March 26 to May 31 in Cowles Library; other special events are set for April 5, April 19, and May 3. Learn more.
Thursday, March 29
Writers & Critics Series: Casey Plett. 7 p.m., Cowles Library Reading Room. 
Casey Plett, award-winning author of fiction that explores, among other subjects, the transgender experience, will deliver a free public reading. She is author of "A Safe Girl to Love," a collection of eleven short stories that feature young transgender women stumbling through loss, sex, harassment, and love. She also is co-editor of the anthology "Meanwhile, Elsewhere: Science Fiction and Fantasy from Transgender Writers." Read more.
"Fear, Loathing, and Miracles among the Cowherders: Krishna's Childhood Prodigies." 7 p.m., Sussman Theater.
Richard H. Davis, professor of religion and asian studies and director of the department of religion at Bard College, will use narratives of Krishna's childhood among cowherders to reflect on the use of "miracles" as a comparative category in the study of religion. Learn more.
Saturday, March 31
Drake Symphony Orchestra Concert. 7:30 p.m., Sheslow Auditorium. 
Conducted by Akira Mori, associate professor of music.
Wednesday, April 4
"The Future of Fashion Design." 7 p.m., Meredith Hall, Room 104.
Drake alumna Kaylen Jelinske, a fashion expert at Amazon, will speak about Amazon, its culture, and tips for applying for a job with the company. She will also discuss her career path, including her current role as leader of a team of 60 stylists, programmers, and data scientists working on the Echo Look—Amazon's personal styling assistant—to examine how technology is modernizing fashion. The Echo Look uses a hands-free camera optimized to capture your outfits that, with its dedicated app, allows users to see themselves from every angle and build their personal lookbook. Jelinske's team is building algorithms and using machine learning to help create an all-digital stylist that will help users look their best. Jelinske graduated from Drake in 2012 with degrees in graphic design and magazines.
Lecture by Michael Brown, Sr. 7 p.m., Sheslow Auditorium, Old Main.
Two Drake student organizations—the Student Activities Board and UNITY Roundtable organizations—are kicking off Bystander Intervention Week at Drake with this free lecture by the father of Michael Brown, an unarmed black teenager who was shot and killed in 2014 by a white police officer in Ferguson, Mo. Brown will discuss the importance of bystander intervention. Learn more.
"Undocumented to Hyperdocumented: The Power of Documentation." 7 p.m., Olin Hall, Room 101 
One of the strategies that undocumented students have employed to "earn" citizenship is to academically achieve. In this talk, Aurora Chang, assistant professor at Loyola University Chicago, shares the lessons she has learned on her journey/transition from a once-undocumented immigrant from Guatemala to a hyperdocumented academic in the US. Through the telling of counter-stories from her own life and those of her students, she reveals how undocumented intelligence and hyperdocumentation, both terms she developed and theorized, are the foundation upon which undocumented students' critical hope is built and their powerful narratives are told.
Thursday, April 5
The Trojan Women (through April 8). Thursday-Saturday at 7:30 p.m.; Sunday at 2 p.m., Performing Arts Hall.
Drake Theatre presents this mainstage production of Euripedes' classic tragedy. Featuring Assistant Professor Mirla Criste in her Drake directorial debut, this play has themes that are relevant today. Read more.
The Hawley Foundation Lecture 2018: "The Truth About Jonestown, and Other Fictions."  7 p.m., Sussman Theater.
Rebecca Moore, emerita professor of religious studies at San Diego State University, will discuss the mass murder-suicides that occurred in Jonestown, Guyana in 1978. Moore examines competing narratives about what led members of the Peoples Temple to their tragic demise, in order to understand voices that have been erased from popular media accounts: those of women, African Americans, and citizens of Guyana. Sponsored by the Drake University Honors Program Student Council and the Hawley Foundation.
Women in STEM networking event. 7 p.m., Levitt Hall, Old Main.
This free event will focus on women inspiring and encouraging one another in reaching STEM goals. The Women in STEM Social is scheduled from 7 to 9 p.m. in Levitt Hall of Drake's Old Main, 2507 University Ave. The night features guest speakers and a dessert reception. Optional tours of Drake's new STEM facilities—Collier-Scripps Hall and the Science Connector Building—will be offered prior to the event. Attire is smart casual; attendees are asked to RSVP online. The social is hosted by the Drake University Chemistry Club and Drake's Women in Math and Computer Science organization.
Friday, April 6
Nelson Institute Undergraduate Conference on Global Affairs (through April 7). Drake campus. 
The purpose of the conference is to recognize and share high quality undergraduate research on global topics. Ambassador John K. Menzies, former chief of mission at the U.S. Office in Kosovo and U.S. ambassador to Bosnia-Herzegovina, and Xhavit Gashi, consul general for Kosovo in Des Moines, plan to share their expertise and offer a simulation on the Balkans. Learn more and register online by March 30.
Wednesday, April 11
"From Journalism to Advocacy: 30 Years of Reporting on the Planet's Health." 7 p.m. in Meredith Hall, Room 101. 
Drake alumnus Jon Bowermaster will discuss his career as a National Geographic adventure journalist, filmmaker and environmental activist. A 1976 graduate of Drake's School of Journalism and Mass Communication, Bowermaster is a six-time grantee of the National Geographic Expeditions Council. He is founder of Oceans 8 Films and One Ocean Media Foundation, reporting on the health of the world's oceans. Read more.
Thursday, April 12
Drake University Conference on Undergraduate Research in the Sciences (DUCURS). 8 a.m. to 4 p.m., Olmsted Center. 
Featuring oral presentations and poster presentations on current research projects by students and faculty at Drake University, as well as students at several central Iowa high schools. Learn more and RSVP.
The Harkin Institute for Public Policy & Citizen Engagement's Spring 2018 Sussman Lecture. 7 p.m., Sussman Theater.
A discussion on the top national security issues of the day with a panel of experts who work in the field. Panelists include Alex Iftimie, an attorney with the U.S. Department of Justice; Rose Jackson, CEO of RiseUp and former Chief of Staff to the U.S. State Department's Bureau of Democracy, Human Rights, and Labor; Anthony Johnson, former Department of Defense liaison and Country Team Lead for the Security Governance Initiative (SGI) at the U.S. State Department; and Chad Kreikemeier, professional staff member for the U.S Senate Select Committee on Intelligence. Read more.
 ##
 Drake Law School is also hosting a number of public lectures, workshops, and webinars in the coming weeks—learn more.