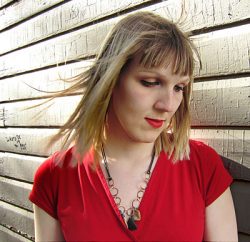 Casey Plett, award-winning author of fiction that explores, among other subjects, the transgender experience, will deliver a free public lecture this week at Drake University.
Plett will give a free reading at 7 p.m. Thursday, March 29, in the Cowles Library Reading Room. The event, part of the Susan Glaspell Writers & Critics Series, is free and open to the public.
Plett is author of "A Safe Girl to Love," a collection of eleven short stories that feature young transgender women stumbling through loss, sex, harassment, and love. She also is co-editor of the anthology "Meanwhile, Elsewhere: Science Fiction and Fantasy from Transgender Writers." She has written for The New York Times ArtsBeat, McSweeeney's Internet Tendency, Plenitude, and Rookie, among other outlets. She is winner of the Lambda Literary Award for Best Transgender Fiction and recipient of the Honour of Distinction for the Writers' Trust of Canada's Dayne Ogilvie Prize for Emerging LGBT Writers. She lives in Windsor, Ontario, and is currently working on a novel.
"Plett's writing recognizes and explores the spectrum of how people self-identify through vivid and compelling prose," said Assistant Professor of English Yasmina Madden, director of the Susan Glaspell Writers & Critics Series.
The reading is sponsored by Drake University's Department of English, Women's and Gender Studies Program, and Center for the Humanities.