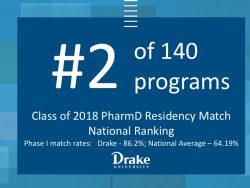 Drake University PharmD graduates continue to have impressive results when applying for competitive residency programs. Of the 58 Drake University 2018 PharmD graduates seeking postgraduate year 1 (PGY-1) residency positions, 50 successfully matched in the first of two phases completed by the American Society of Health Systems Pharmacists (ASHP). The number represents the largest number of Drake students to successfully match in college history. The 86.2% match rate puts the program 2nd of 140 programs who participated in the match and more than 20% ahead of the national match rate of 64.19%.
The number of pharmacy students applying to and securing residencies is on the rise nationwide. Settings are varied and include locations such as hospitals, community pharmacies, long-term care facilities and more.  Members of the Drake PharmD Class of 2018 matched with 46 residency programs in 17 different states.
In addition to the success of students in the ASHP Residency Match Process, Drake also has a number of students who have been selected for highly competitive national fellowships, PhD programs and non-ASHP residencies. Several P4 students are also receiving offers of employment from some of the top employers in the country, including highly-regarded national pharmacy corporations and the U.S. military.
In congratulating all of those who were matched and had obtained positions, Renae Chesnut, professor and dean of the College of Pharmacy and Health Sciences credited the outstanding students as well as the support and guidance of the college's faculty, staff, and preceptors who spend extensive time and effort fostering the professional development of Drake's students.
"To assist Drake students in their career preparation, the faculty and staff help our students evaluate programs, revise their curricula vitae, conduct mock interviews, and provide residency and career preparation sessions." Chesnut stated. "We're proud that so many of our students will have the opportunity to launch their professional careers by gaining valuable knowledge and training in a pharmacy residency program, while many others are also beginning their careers in other highly sought after positions."