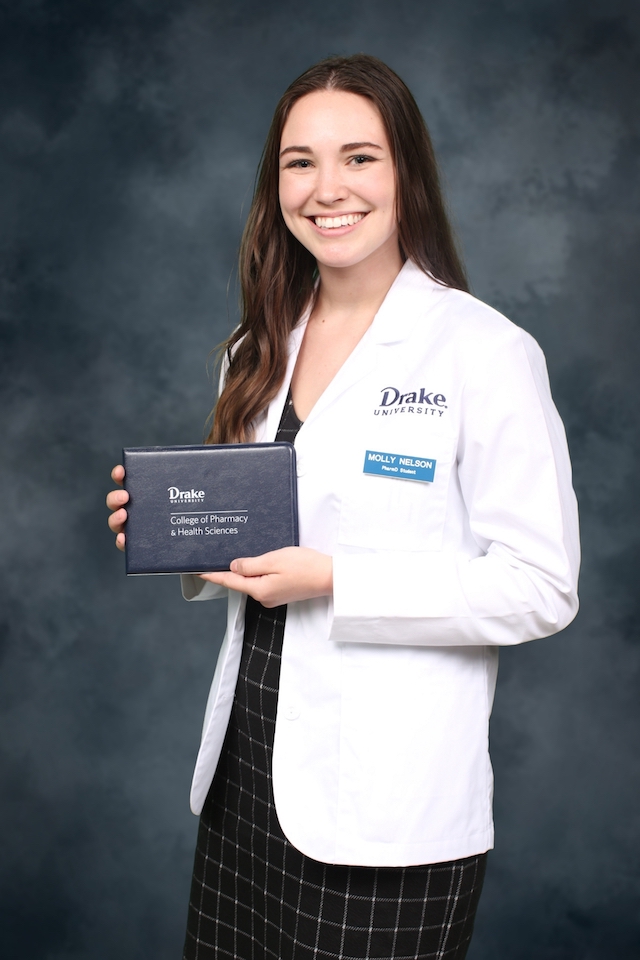 Molly Nelson, a fourth-year student pharmacist in Drake University's College of Pharmacy & Health Sciences (CPHS), was named one of three national finalists for the 2022 Next-Generation Future Pharmacist™ Award sponsored by Parata Systems and Pharmacy Times. The winner will be announced during the Next-Generation Pharmacist Award Gala held on September 30, 2022, in Kansas City, Mo. 
The national Next Generation Pharmacist™ Awards program honors pharmacists, technicians, students and industry advocates in 11 categories who are defining the future of pharmacy. The Future Pharmacist Award is given to a student pharmacist who demonstrates spirit and passion for the profession of pharmacy through a combination of academic achievement and evidence of industry advocacy, patient advocacy, technology innovation, or civic leadership/environmental stewardship to the profession.
Nelson, from Omaha, Nebraska, has built an impressive record of professional involvement and leadership as a Drake student pharmacist. Nelson is the past Women's Health Chair (now called the Reproductive Health Chair) for the American Pharmacists Association Academy of Student Pharmacists (APhA-ASP), the Research and Practice Events Coordinator for the Student College of Clinical Pharmacy (SCCP), and the principal investigator for the SCCP student-led research paper on vaccination confidence, resulting in a Top 10 Adult Medicine PRN poster at the 2021 AACP Annual Meeting and a manuscript. Nelson worked with a group of students to bring a new interprofessional organization – the National Community Oncology Dispensing Association, Inc. (NCODA) – onto Drake's campus, and served as the Co-Director of Professional Programming, Social Media, Marketing, and Communications. She also attended the 2022 APhA Annual Meeting in San Antonio, Texas, and represented Drake in the national patient counseling competition.
Nelson has also asserted herself as a politically engaged professional and advocate for patients and the pharmacy industry. For the summer of 2022, Nelson served as a Legislative Intern for pharmacist and Iowa State Representative John Forbes, PH'80. As a Legislative Intern, Nelson assisted with introducing bill HF 2384, which proposes regulation of Pharmacy Benefits Managers to lower drug costs and help keep locally owned pharmacies afloat. She also administered COVID-19 vaccinations and boosters to elected officials. Nelson received the 2022 Jerry Karbeling Leadership Award from the Iowa Pharmacy Association as a result of her leadership, advocacy, and involvement in professional organizations.
"I am incredibly honored to have been nominated for the Next-Generation Future Pharmacist Award and am astounded that I am a finalist," said Nelson. "I am even more honored to be able to help the community through the work I do, while being mentored by amazing pharmacists everywhere I go."
The CPHS has a stellar record in the Next-Generation Future Pharmacist Award with more finalists and winners than any other college/school of pharmacy. Previous finalists (and winners) include:
About the Next-Generation Pharmacist™ Awards
Sponsored by Parata Systems and Pharmacy Times, this national awards program honors pharmacists, technicians, students and industry advocates who are defining the future of pharmacy. More than 200 pharmacy leaders have been named finalists or winners since 2010. An independent panel of judges evaluates all entries for adherence to professional standards, experience as it relates to each category, and advancement of the profession. The three highest-scoring entries in each category are named finalists, and the top-scoring entry is named the category winner.