Win SJMC swag in the scavenger hunt!
Participate in this week's SJMC "Meredith East" (our temporary 25th street gigs) scavenger hunt and have your name entered into a drawing to win SJMC swag! (We'll host a similar opportunity for our virtual students in a future Monday Memo.)
Entries due Tuesday, September 6.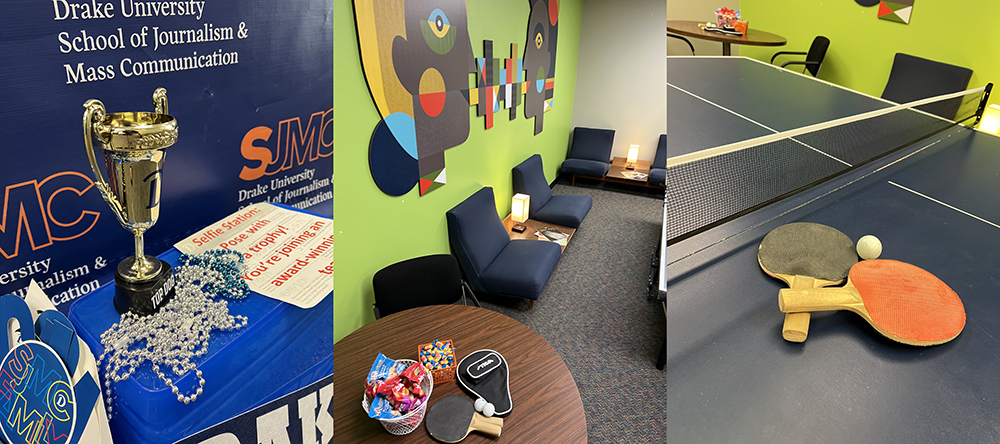 Explore our 25th street offices, reconnect with one of your SJMC mentors, and meet our new internship coordinator. As you complete the challenge in each clue, direct message us a selfie on Instagram to be entered. Participants will be entered in a drawing for SJMC-themed prizes. We will announce winners the week after September 6.
One of our goals in the SJMC is to become your mentors for life. Invite your advisor to "school you" at table tennis in our temporary offices at 1213 25th Street.
Drake's Magazine and Brand Media program is widely recognized as the best in the nation. Find the latest issue of Drake Mag.
Where is the temporary office of Drake's own student newspaper, established in 1884?
Find the Drake Broadcasting System (DBS) office and home of "The Dog" Radio. (Tip: They can still call themselves "basement dwellers.")
A Drake SJMC education is characterized by hands-on, experiential opportunities. Where is the SJMC internship coordinator's office?
SJMC ice cream social
Drake SJMC will host an ice cream social for all SJMC students and guests Wednesday, September 7 at noon in our 25th Street offices. Last year's event was so popular we quickly ran out of ice cream, so plan to arrive as soon as your schedule allows. Feast on ice cream and challenge your favorite SJMC mentor to a ping-pong match.
Attention first-year students: Drake Mag is hiring their first-year position
Join Drake's award-winning publication by becoming an Assistant Editor. Drake Mag's First-Year Assistant Editor applications are now open. Please send a cover letter, resume, and two work samples to Editor-In-Chief Annie Peterson at annie.peterson@drake.edu. Applications are due by Friday, September 2nd at 7:00 pm.
Drake Broadcasting System first meeting
DBS will have its first member meeting September 6th at 5:00 pm in 311 Upper Olmsted. If you are interested in hosting a radio show, getting involved in DBS's new run of videos and shows this semester, or creating your own videos, then this meeting is a great starting point. You'll also learn about DBS's new payment plan for creators and show contributors. For more information, reach out to DBS President Liz Hatch at elizabeth.hatch@drake.edu.
The Times-Delphic is hiring
The Times-Delphic is still looking to fill two positions for the 2022-23 school year. The Student Senate Beat Writer watches Student Senate meetings, tracks Student Senate agenda items and decisions, and writes stories based on news that comes out of Student Senate meetings.
The Distributor is responsible for distributing newspapers to all the news stands on campus when they come out each Wednesday. Pay: Student Senate Beat Writer at $8/hour, 4 hours/wee. Distributor at $8/hour, 2 hours/week. No experience needed. This is a great way to add experience to your resume!
To apply or for questions, contact editor-in-chief Grace Altenhofen at grace.altenhofen@drake.edu.
Periphery Art & Literary Journal is hiring
Periphery Art & Literary Journal is hiring two (2) new student editors. This is a paid, on-campus job for fall and spring semesters. Interested applicants should send their resume, a cover letter, and a writing sample (no longer than 8 pages) to periphery.editors@drake.edu. In your cover letter, answer the following questions:
Why do you want to be an editor for Periphery?
What relevant experience would you bring to the journal?
What are your favorite genres to read and/or write? What draws you to them?
Applications are due September 30th.
Submit your creative work to Periphery
Periphery Art & Literary Journal's fall submission period opens September 1, 2022 and closes November 18, 2022. Periphery accepts creative work, including poetry, short stories, personal essays, memoirs, songs, comics, paintings, photos, and more. Interested writers or artists should visit Periphery's website for more details. Questions? Email periphery.editors@drake.edu
SJMC faculty news
Dr. Eric Adae attends UNA-USA Leadership Summit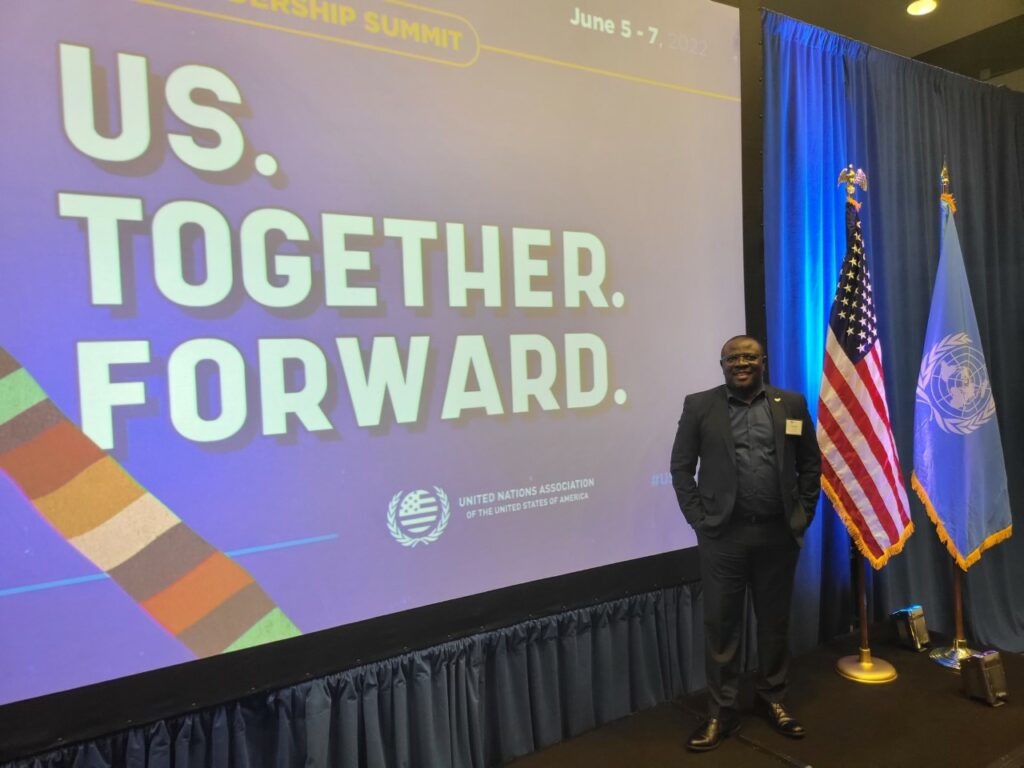 During the summer, Dr. Eric K. Adae and other executives of the Iowa Division of UNA-USA participated in the 2022 Leadership Summit and had an opportunity to advocate with members of Iowa's congressional delegation.
Every year, members of the United Nations Association (UNA) from across the country gather in Washington D.C. for the Leadership Summit to advocate for the UN's work on Capitol Hill. For two days, delegates attended workshops, improved their advocacy skills, and learned from high-ranking officials about how the UN is leading efforts to tackle global challenges.
Alumni news
Todd Ruger, JO'01, was appointed editor, immigration, and legal affairs for CQ Roll Call where he had served as legal affairs staff writer. Previously Ruger was a Capitol Hill reporter for The National Law Journal and Legal Times.
Volunteer with World Food & Music Festival
The Greater Des Moines Partnership is seeking volunteers for the World Food & Music Festival. Register to volunteer with Greater Des Moines Partnership via VolunteerLocal.
Have a news item for the Memo?
The SJMC Monday Memo (and other days of the week as needed) is a newsletter to keep members of the wider SJMC community updated on School news, achievements, events and opportunities. If you have an item for the Memo, please send it to SJMC webmaster and multimedia professor Chris Snider (christopher.snider@drake.edu). SJMC alums and other professionals can also subscribe to the Monday Memo via email here: http://eepurl.com/bPNbxn