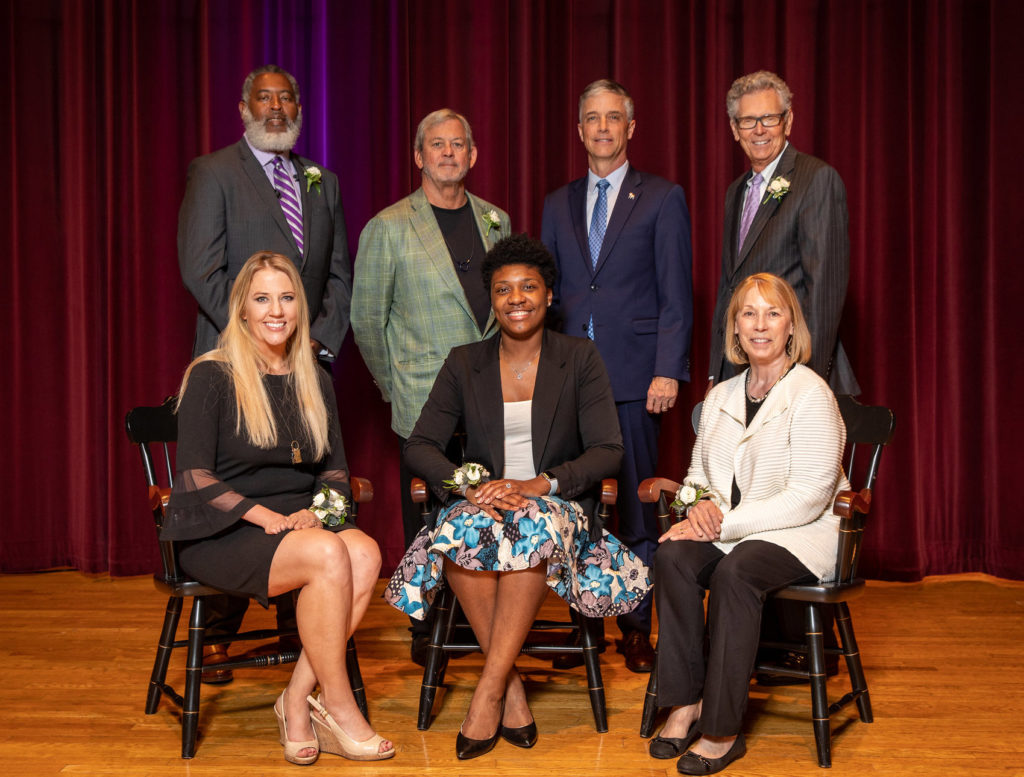 On April 25, Drake University recognized six exceptional alumni for their loyalty, service, and contributions to their professions and the University and honored these individuals as the 2019 Alumni Award recipients. Hear directly from 2019's winners as they receive their award and reflect on how Drake has impacted their lives. (Click each name to watch a video of the recipient's speech.)
Beth Shelton, GR'07, CEO of Girl Scouts of Greater Iowa, was awarded the Young Alumni Achievement Award. She fondly remembers her time at Drake. "I was warmly welcomed into this elite club of blue," she said. "Words can't capture what Drake has meant to my life. I am proud to be blue today."
Crystal Everett, AS'10, JO'10, received the Young Alumni Loyalty Award. She is frequently seen around Drake events, particularly those designed to bring students to Drake. Everett has also participated in every DU Good Day since 2014, serving as chairperson and co-chairperson in 2017 and 2018, respectively.
The Alumni Loyalty Award went to Carl T. Jakopec, PH'69, in recognition of his commitment and sustained service to Drake. In his acceptance speech, he said, "We are all here on the shoulders of those who came before us and sought to give back to the University so those who come after them will have the ability to get a better education than they had… we need you to lend Drake your shoulders in order for the future generations have something to stand on."
Arthur M. Coppola, BN'72, LW'75, received the Alumni Achievement Award. Arthur is the retired CEO of the Macerich Company, a company he helped found in 1993 and helped mold into one of the country's leading owners of super regional shopping centers.
Rev. Dexter Wimbish, LW'94, GR'94, received the Community Service Award for his extensive civil and humans rights work. He is a former general counsel for the Southern Christian Leadership Conference and has provided 5,000 hours of pro bono legal services to churches, non-profits, and indigent defendants. A call to service was thread throughout his speech and he encouraged the audience to remember, "The measure of your life is determined by the number of people you help, not the number in your bank account."
The Distinguished Alumni Award, the most prestigious of the night, went to The Honorable Marsha K. Ternus, LW'77. She is a former chief justice of the Iowa Supreme Court, the first women to hold this position. She ruled on the unanimous court ruling instituting marriage equality in Iowa in 2009.