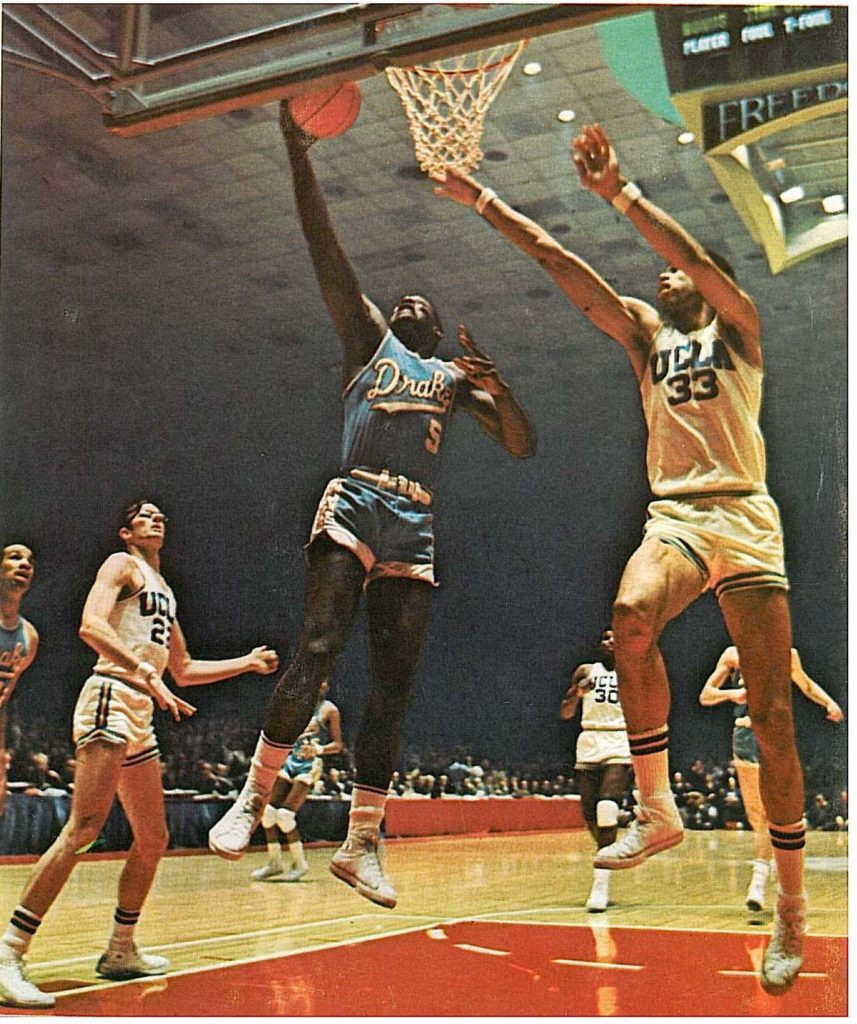 A high school boy searching for that right college fit landed at Drake University and it became a lifelong commitment. Dolph Pulliam's resume, from his college days on, displays a wide range of demonstrated excellence, commitment, and passion for the institution and city that he fell in love with as a young college student in the 1960s.

And 2019 marks two important golden anniversaries. Dolph, FA'69, celebrates his 50th reunion this year, which is also the 50th anniversary of the Drake men's basketball team's NCAA Final Four appearance. Dolph played a huge part on the 1968-69 team and the Gary, Indiana native was regarded as one of the best defensive forwards of his time. He totaled 1,007 career points and finished his career ranked fifth among all-time scorers at Drake and still ranks among the top 25 scorers today. In the semifinal contest against UCLA, he recorded 12 points, five rebounds, and six assists before the Bruins managed to just barely squeak past the Bulldogs.

All while setting his sights beyond the court and beyond his four years of college.

"My Drake experience started with a promise from Coach Maury John; a promise that I would graduate from Drake in four years with a degree that would not be in basket weaving, but one that I could get a good job and be professionally successful with," Dolph attests.

While leading the men's basketball team to impressive and legendary heights, he also earned a Bachelor of Arts in Speech, with a minor in Radio/TV Broadcasting. He stresses that his teachers are the ones who formed him into the man he is today; instilling confidence and courage into a shy young boy.

During his freshman year, a teacher, Mrs. Shaw, took notice of Dolph and his shyness and asked him to stay after class one day.

"That day she said 'Adolphus hitch your sternum to a star,'" Dolph recalled, "She said if you do that you will never look down again, but rather you will confidently look people in the eyes and be able to communicate with them."

The promise from Maury John and Mrs. Shaw's teaching became the two most important things in his life at that time.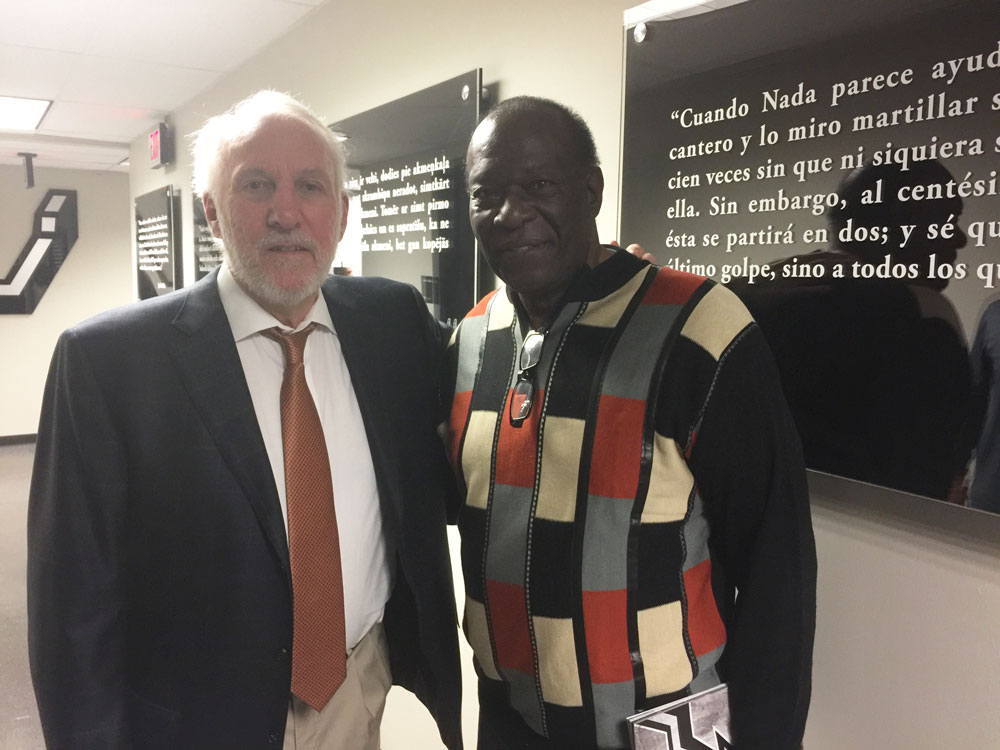 After graduating, Dolph became the first African American radio and television broadcaster in Iowa. He anchored the mid-day news, and hosted two children's shows: One, Two, Three and Dolph's Cartoon Corner. He maintained ties to Drake Basketball and acted as the radio announcer from 1969-1979, and again returned to the airways in 2002-2013. 
 
Two decades after graduating, Dolph committed to Drake full-time again. In 1989, he joined the staff as the marketing and promotions director for athletics. He retired as the director of community outreach and development in 2013. 
 
Among many awards and accolades, Dolph was honored with Drake's "Double D" Award in 2011 for his tremendous success in his field and the impact he has made in the community. He was inducted into the state of Iowa African-American Hall of Fame in 2006 and the state of Indiana Basketball Hall of Fame in 2009.  
 
And Dolph didn't just fall in love with Drake, he fell in love with the whole Des Moines community. He dedicated time and efforts to several community organizations, including the Drake Neighborhood Association, Character Counts, the Prairie Meadows grant committee, and Boy Scouts of America.  
 
Today, Dolph calls Gary, Indiana home again and you will find him reconnecting with his high school classmates over a meal, traveling the country, caring for his youngest brother, volunteering for the U.S. Army, assisting soldiers with logistics of settling into their deployments, and line dancing at the Gary YWCA. Dolph continues lending his voice to the Drake men's basketball team, serving as a radio broadcaster when they play at Valparaiso and Loyola University in Missouri Valley Conference games.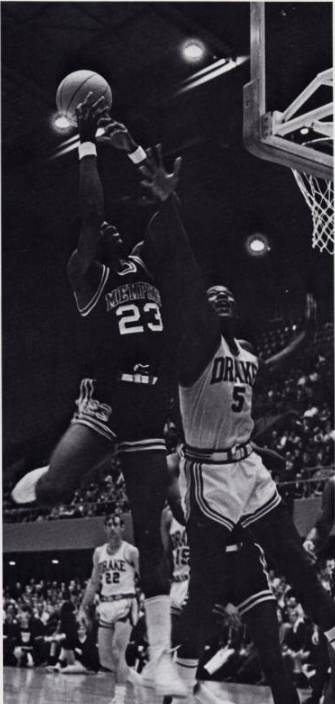 Dolph returns to Drake University this weekend to reunite with some of his basketball teammates and celebrate the 50th anniversary of their landmark Final Four appearance. The team will be honored during the men's basketball game vs. the University of Northern Iowa on Saturday and available for autographs following the game.  
 
This spring, Dolph and his class of 1969 classmates will celebrate their 50th reunion over Relays weekend (more information), and who better to co-chair such an event than Dolph himself. The weekend will bring a group of faces Dolph hasn't seen in years, but whose loyalty has never been forgotten.  
 
"Those kids used to line up for basketball games at Vets Auditorium right after lunch," Dolph said. The doors wouldn't open until five, but there they waited, often in the cold, to claim their seats to cheer on Dolph and the team.  
 
Dolph's current commitment to Drake runs deeper than reunions and radio broadcasts. He values investing in the next generation of Drake students and as a commemoration of his 50th reunion, he made a bequest gift for a scholarship to be awarded in his name to African American students from Chicago or northern Indiana.  

That commitment and loyalty stems from a cadre of coaches and teachers who supported Dolph as a student and athlete and launched him into a successful professional career. Dolph also credits a directive he received from Paul Morrison, Mr. Drake himself, long ago. As Dolph was running to get in line for graduation, he crossed paths with Paul. After congratulations and best wishes, Paul challenged Dolph, saying:

"Never forget Drake."

And Dolph has never forgotten, remembering the University in memory, word, and deed.