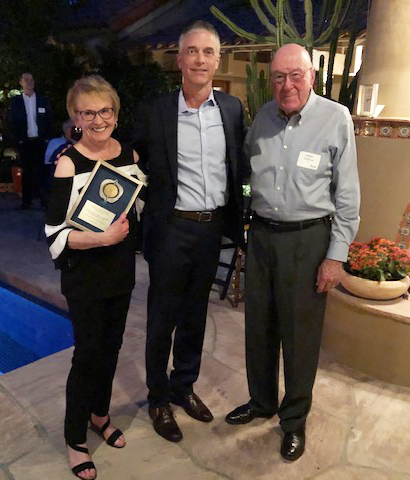 Drake University is proud to honor Karen (Kolbe) Goodenow, ED'60, and John Goodenow, '57, with the Drake Medal. Karen is a retired educator, and John is a chairman at Goodenow Bancorporation. He is past president and CEO of the company. They are both emeriti volunteers for the University and have a long history of philanthropic support of Drake and other places in the state of Iowa.
The University awards the Drake Medal to the Goodenows in recognition of their service of time, talent, and treasure to the field of education and banking throughout Iowa. The award is presented to individuals in recognition of their significant and sustained service to the Drake community.
The Medal is similar in status to an honorary degree and has been awarded to 49 people since its inception in 1992. (List of recipients.)
"Karen and John are two of the finest people I've ever known. They are humble, compassionate, thoughtful, unselfish, and charitable people. I can't think of anyone more deserving of the Drake Medal than Karen and John Goodenow," writes Peggy Fisher, current Drake University Board of Trustees member.
Peggy met Karen when she joined the Board of Trustees in 2006 and says Karen's passion for Drake was evident from the time they met.
Dedication and Generosity
The Goodenows are well-known philanthropists in the Drake community and around Iowa. At Drake, they have given to support School of Education student scholarships, the Donald V. Adams Leadership Institute, the Paul F. Morrison Legacy Fellowship, the Urban Education Development Fund, and The Drake Fund. In a recent gift, the Goodenows gave $1 million to Collier-Scripps Hall, the new School of Education building.
Karen graduated almost 60 years ago, but has remained dedicated to the University. She contributed a quarter century of service to Drake's Board of Trustees, retiring in 2011, undertaking several leadership positions during her tenure, and was a member of the School of Education advisory committee. She also received the School of Education Alumni of the Year award in 1993 and the Drake University Distinguished Service Award in 1997. Karen has also served on several education boards at a state and national level. She was president of the Iowa State Board of Public Instruction and was later tapped to serve a term on the National State Board of Education.
In addition to his leadership at the Goodenow Bancorporation, John served on the Boards of Directors at Pester Corporation, Des Moines; Fairmont (Minnesota) National Bank; Corn Belt Telephone Company, Wall Lake; Everly (Iowa) State Bank; 1st National Bank, Colfax, Iowa; and Colfax Bank Corporation.