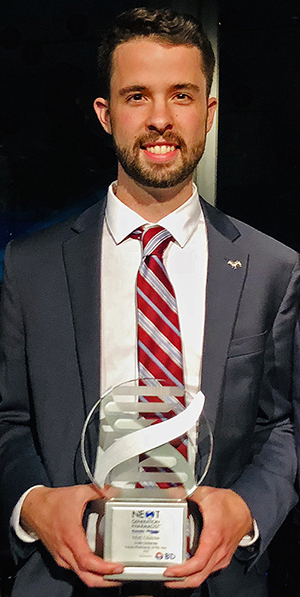 Matt Glasow, a fourth-year student pharmacist at the Drake University College of Pharmacy & Health Sciences (CPHS), was announced as the winner of the 2018 Future Pharmacist Award during the Next-Generation Pharmacists Award Gala held on October 5 in Boston. Sponsored by Parata and Pharmacy Times, the national Next Generation Pharmacist™ awards program honors pharmacists, technicians, students and industry advocates in 11 categories who are defining the future of pharmacy. The Future Pharmacist Award is given to a student pharmacist who demonstrates spirit and passion for the profession of pharmacy through a combination of academic achievement and evidence of industry advocacy, patient advocacy, technology innovation, or civic leadership/environmental stewardship to the profession.
Glasow, originally from Maple Grove, Minnesota, has an extensive record of leadership and service as a CPHS student pharmacist, demonstrating his passion to advocate for the profession of pharmacy. Glasow has served as a legislative intern for Iowa State Representative John Forbes, PH'80, and as an Iowa Pharmacy Association Max Eggleston Summer Intern. In addition, Glasow has participated in the CPHS Student Leadership Development Series, the Drake University Donald V. Adams Leadership Academy, the Live Oak Bank Student Summer Program and currently represents his fellow student pharmacists on the CPHS Student Governance Association. As a result of his outstanding contributions to the profession, Glasow was awarded the 2018 Cardinal Health Pharmacy Scholarship and has been inducted into Phi Lambda Sigma, the pharmacy leadership society.
"This award is a testament to the culture of excellence promoted in Drake's College of Pharmacy and Health Sciences," said Glasow. "I believe this award could very well have gone to many of my fellow classmates, which reflects the many unique opportunities that are given to us as Drake students. I couldn't be more thankful to represent my school in this way, and am extremely grateful for everyone who has helped make it possible."
The college has a stellar record for the Next-Generation Future Pharmacist Award with more finalists being selected for 6 years of the 9-year history of the award than any other pharmacy program:
"Matt's honor is well deserved and recognition of his impact on the pharmacy profession," said Renae Chesnut, dean and professor of the College. "Drake's record of achievement for this award is another piece of evidence that the College is fulfilling its mission of preparing today's learners to be tomorrow's health care leaders."
About the Next-Gen Pharmacist™ Awards
Sponsored by Parata and Pharmacy Times, this national awards program honors pharmacists, technicians, students and industry advocates who are defining the future of pharmacy. Since 2010, more than 200 pharmacy leaders have been named finalists or winners. An independent panel of judges evaluates all entries for adherence to professional standards, experience as it relates to each category, and advancement of the profession. The three highest-scoring entries in each category are named finalists, and the top-scoring entry is named the category winner.