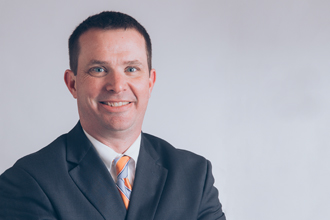 On July 1, Andrew Jurs took over as associate dean of Drake University Law School. Jurs is an expert in criminal law and procedure, science and the law, and evidence. He earned his bachelor's degree at Stanford University and his JD at the University of California, Berkeley, School of Law.
Before joining the Drake Law faculty, Jurs served as a deputy district attorney in the 18th Judicial District of Colorado, an associate at the firm Johnson, McConaty & Sargent, PC, and an assistant attorney general representing the State of Colorado. He was also a visiting assistant professor of law at Wake Forest University School of Law.
At Drake, Jurs has twice been selected as the Leland Forrest Outstanding Professor of the Year. He also served as chair of the Association of American Law Schools (AALS) Section on Evidence in 2017-2018.
Q: What drew you to Drake Law School?
Jurs: Drake is a school that prides itself on teaching students how to be lawyers. When students graduate, it is very common for them to have tried a case or worked with clients already, and that gives them an advantage. Right away, I agreed with this approach to legal education. Not every law school emphasizes the benefits of practical experience.
Q: What will be your role as associate dean?
Jurs: It combines a lot of the necessary work to run the Law School. I help the dean implement his initiatives, manage staff, and work with faculty to schedule classes and help decide the curricular emphases.
I also handle various student issues. Sometimes students petition to do something new and different with their legal education, and I help facilitate that process. Sometimes students need assistance in their studies, and I work to give them every opportunity to succeed.
Q: What goals do you want to accomplish?
Jurs: The issue of bar passage and how that relates to employment is a focus. We try to identify issues and give students the tools to succeed.
Another focus is diversity and outreach to communities of color, which could be better represented on campus. We want to provide educational opportunities for these communities and ensure our graduating class reflects what the 21st-century legal profession will look like.
Q: What issues are facing the legal education system?
Jurs: The issue of student debt load and cost of attendance is something that is on everyone's minds. We want to provide the education our students need and deserve, while also ensuring they don't have an unreasonable debt load.
There are also challenges in innovation. We have to ensure that when our students graduate, they are ready to practice in the way the legal world is now, and the way it will be in the future. This requires planning and thinking about how to reshape the traditional law school mold.
Q: What sets Drake Law School apart from the rest?
Jurs: There are many aspects of a Drake Law education we should take pride in emphasizing. Our students have a reputation for quality and are ready to practice law when they graduate. The Law School also fits well within the community, providing lawyers that do the day-to-day legal work in the state's courts, government, nonprofits, and corporations. We're very proud of our faculty, who are a great group of scholars doing exceptional work at a national level. I'm happy to be stepping into my new role as associate dean.