Rescue dog Myrtle Mae was crowned the overall winner at the 2021 Most Beautiful Bulldog Contest® presented by Sammons Financial at Drake University Sunday, April 18.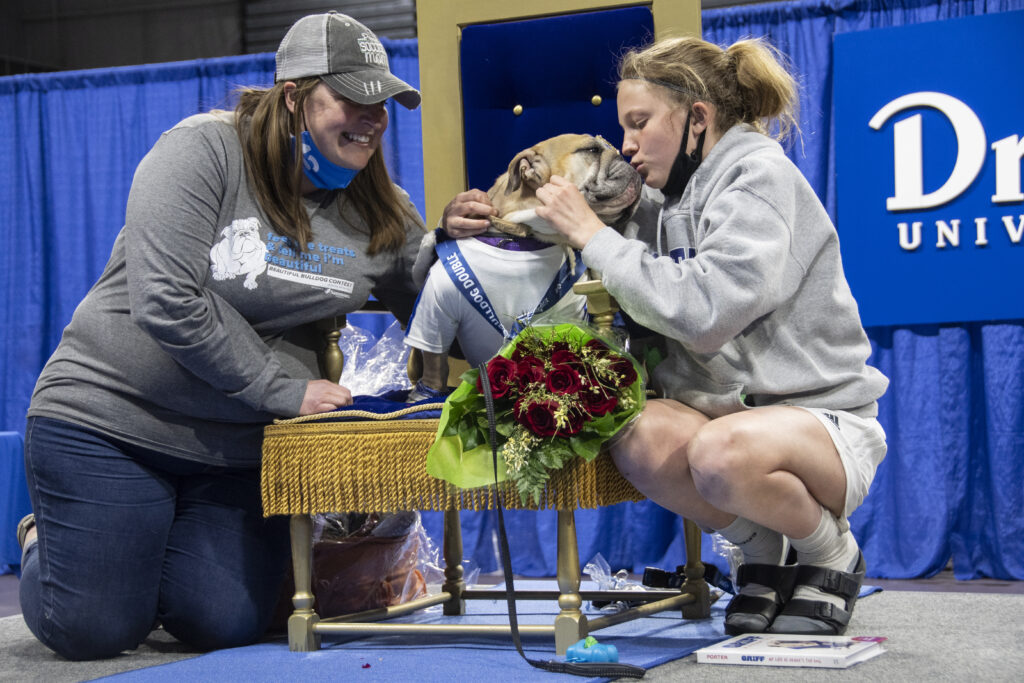 2003 Drake Law graduate Whitney Bogdanski of Des Moines started fostering Myrtle Mae from Lucky Bulldogs Rescue in 2020. The family fell in love with her immediately and knew she needed to be a permanent part of the family. That happened just last month along with sibling dog Ivy, who is an American bulldog mix. Myrtle is epileptic and requires special attention from the Bogdanski family.
"She wanted to be loved and it was so easy to love her," Whitney Bogdanski said. "We gave her a lot of love and she opened up."
A crowd of 300 adoring fans seated in ticketed pods watched as 20 English bulldogs strutted their stuff down the pageant Pupway. Proud sponsor Sammons Financial provided contest shirts and face masks to Drake University students who attended the contest.
Maverick, owned by Samantha Thompson of St. Charles, Missouri, won Best Dressed. The bulldog came to the Knapp Center in a Top Gun outfit and brought along a canine-sized cardboard plane.
Little Millie, owned by Alex and Amanda Mason, won the Drake Spirit award with her blue and white tutu. Meaty, accompanied by owner Elizabeth McCulloch of West Des Moines, Iowa, went home with the Rescue Dog Recognition award.
Attendees and live stream viewers voted on their favorite for the Porterhouse People's Choice award and the clear winner was Samson Jameson Bronson. Samson was accompanied by owner Robyn Bronson of Independence, Missouri.
First runner-up was awarded to Betsie, owner Mollie Gilbertson of Des Moines, Iowa, and second runner-up was awarded to Dottie, owner Cat McAuliffe of Des Moines, Iowa.
In 2020, the 41st contest was held virtually for the first time in contest history. Fans voted on Facebook polls to decide the winner, Hulk from Jewell, Iowa. Hulk took his last walk as mascot and accepted a painting from Drake staff member Lisa Cooper.