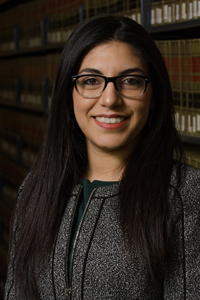 From a young age, Sanjuanita Martinez was drawn to immigration law. Growing up in the Hispanic community of Bowie, Texas, she quickly realized that some of her relatives and community members were not afforded the same options as everyone else.
"I saw people exploited by immigration lawyers," Martinez recalls. "Many times these attorneys would take clients' money and disappear. Sometimes they gave clients falsified documents, which then left the clients in big trouble."
Martinez decided she wanted to make a difference in immigrants' lives.
Even as an undergraduate student at Cornell College in Mount Vernon, Iowa, Martinez was not afraid to fight for her community. Following several incidents of racism on campus, the five-time All American cross country and track star refused to represent her school at the NCAA Championships until the administration acknowledged the issue. In response, the college's president invited student leaders to discuss how to approach diversity on campus.
After graduating, Martinez enrolled at Drake University Law School.
"I wanted to study law in Des Moines, where some ground-breaking court decisions about immigration were made," Martinez explains.
As a law student, Martinez has furthered her career goals through practical experience. After her first year, she interned at the Iowa Coalition Against Domestic Violence, where she met with victims of domestic violence and aided them in the U-Visa and VAWA application processes using her bilingual skills.
Martinez says her experience proved that helping others is the first duty of lawyers.
"No matter what kind of law you practice, when a person steps into your office asking for your help, they could be going through a difficult time or traumatic event," Martinez says. "Once you realize that, you begin to treat that person differently."
Martinez later clerked for law firms Brick Gentry, P.C. and Cooper, Goedicke, Reimer & Reese. Although her interest remained in immigration law, she was happy to gain a wide range of legal experiences and perspectives.
"Thanks to our amazing Career Development Office, professors, and staff at Drake Law School, I was exposed to areas of law that I would not have given a second glance," Martinez says. "Working at a trauma-informed nonprofit, a corporate law firm, and a criminal defense firm, I discovered how to interact with many different types of people."
On campus, Martinez is dedicated to providing opportunities for fellow Latino students. As president of the Hispanic Latino Law Student Association (HLLSA), she has organized events with local professionals in the areas of immigration law, family law, and corporate and public defense.
"Being a part of HLLSA has helped me create a network of successful Hispanic and Latino attorneys in Des Moines," Martinez explains.
Now a rising third-year law student, Martinez is completing her Prosecution and Defense Certificate at Drake Law School. She is spending part of her summer as a prosecutor intern at the Linn County Attorney's Office, where she continues to hone her courtroom experience.
To fuel her continued interest in immigration law, Martinez is also a summer associate at Trey Sucher Law, PLC, where she assists in the drafting process for motions to stay, motions for bond, applications for asylum, and other important documents required in the practice of immigration law.
In the future, Martinez hopes to incorporate her wide range of legal experiences in the field of "crimmigration"—which combines criminal and immigration law and procedure.
"I'm really passionate about immigration, family, and criminal law, making crimmigration law a strong path worth pursuing," Martinez says. "Because of my preparation at Drake Law School, I know that wherever I end up after graduation, I will be prepared to tackle anything that comes my way."