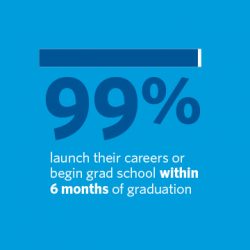 New data affirms that Drake University does an exceptional job of preparing its alumni for professional success. Ninety-nine percent of students who graduated from Drake during the 2015–2016 academic year had a job, were enrolled in graduate or professional school, or were engaged in internships or other activities related to their professional goals within six months of completing their studies, according to a university assessment completed this month.
Drake's undergraduate accomplishment rate (99 percent) is 10 percentage points higher than the average reported by graduates of similar colleges and universities—based on The Carnegie Classification of Institutions of Higher Education—and the accomplishment rate for recent graduate degree recipients (99.5 percent) is 5 percentage points higher than average. Those averages are reported by the National Association of Colleges and Employers.
Colleges and universities routinely gather and report information on their recent graduates' career outcomes. The accomplishment rate (sometimes known by other terms including success rate or placement rate) is a useful measure of an institution's value, particularly when a school is able to verify the professional status of a high percentage of its new graduates. Drake was able to verify, through a multi-stage assessment process, the professional status of 94 percent of recent Drake grads; by comparison, colleges who share Drake's Carnegie Classification are able to verify the professional status of only 61.4 percent of their recent alumni.
"This data provides strong affirmation of what Bulldogs already know to be true: a Drake degree is a reliable springboard to diverse and rewarding professional pursuits," said Drake University President Marty Martin. "I am immeasurably proud, not only of our alumni, but also of our faculty and staff members and community partners who ensure that Drake lives up to our reputation as one of the country's finest institutions of higher education."
Through the Drake Commitment, the university pledges to offer every student an education that is characterized by personal mentorship; opportunities to learn through service locally or globally; the flexibility to explore interests through a tuition-free January Term course; and the ability to prepare professionally through high-caliber internships, undergraduate research, and professional experiences.
"It's important for families to take a careful look at the data that colleges and universities are presenting, and to ask the right questions of admissions counselors," said Drake University Dean of Admission Anne Kremer. "Students who are considering whether to study at Drake can put a great deal of trust in our graduates' career outcomes—and those stats are only one of many measures that point to the tremendous value of a Drake education. We look forward to talking with students about all the reasons why Drake may be the right fit for them."
Drake is routinely recognized among the nation's best colleges for academics, financial value, and return on investment. The Princeton Review listed Drake as one of 200 schools in its Colleges That Pay You Back rankings earlier this month. In December, Kiplinger's Personal Finance placed Drake at No. 39 on its annual list of 100 best values for private universities. The inaugural Wall Street Journal/Times Higher Education ranking of U.S. colleges placed Drake University at No. 135 in a list that includes more than 1,000 schools nationwide. U.S. News and World Report gave Drake the No. 3 spot on the publication's 2017 rankings in the category of best Midwest master's institutions.
Last year, The Economist ranked Drake University 17th nationally for return on investment—with alumni earnings that are in the 98th percentile of all four-year, non-vocational private colleges. A report by the nonprofit Brookings Institution found that Drake University adds more than 32 percent to the projected mid-career earnings of demographically similar graduates from institutions with similar characteristics.
Visit www.drake.edu/admission to learn more about Drake's admission process and academic offerings.
##
This article was updated June 16, 2017, to reflect a revision by the Wall Street Journal/Times Higher Education of their annual rankings data. The publication upgraded Drake's overall national ranking to 135, up from the original rank of 149.