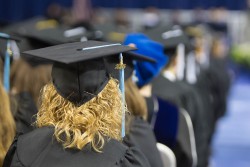 A new ranking by The Economist of all U.S. four-year, non-vocational colleges and universities places Drake University 17th in the nation for value.
The Economist applied an original mathematical formula to the federal Department of Education's data on college graduates' mid-career earnings to identify the "gap between how much money [each college's] graduates earn and how much they might have made had they studied elsewhere."  Out of 1,283 colleges, Drake ranked 17th for return on investment—just below Georgetown University and directly above Rensselaer Polytechnic University.
"This ranking, based for the first time on federal data, provides a powerful affirmation of what Drake alumni already know—it pays to be a Bulldog," said Drake University President Marty Martin. "Drake students receive an exceptional education that prepares them for meaningful personal lives and boundless professional accomplishments."
The study found that Drake University degree recipients earn $8,799 more per year, 10 years after graduation, than they would have been expected to earn had they attended another college or university.
"For students who want to know which colleges are likely to boost their future salaries by the greatest amount, given their qualifications and preferences regarding career and location, we hope these rankings prove helpful," The Economist said.
The Brookings Institution released its own value rankings this week, using the same federal scorecard data but a different mathematical formula. The rankings—which were much broader than The Economist's, and included two-year colleges as well as four-year colleges—placed Drake in the top 100 four-year schools tied with Johns Hopkins, Vanderbilt, Colgate and Syracuse among others.
Rankings from The Brookings Institution earlier this year found that Drake gives its graduates a higher boost to mid-career earnings than do Iowa's other four-year colleges and universities.