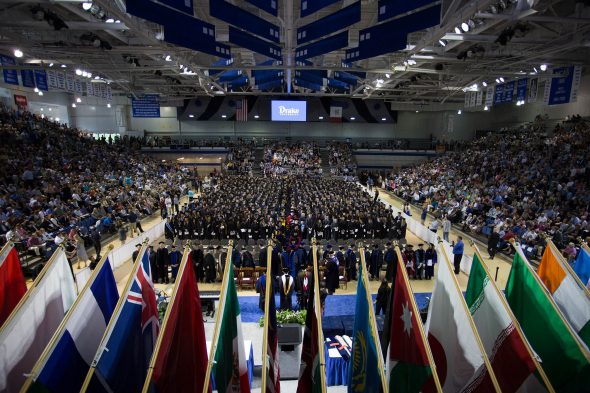 Kiplinger's Personal Finance has placed Drake University at No. 39 on its list of the 100 best values in private universities for 2017. The listing ranks four-year schools that combine outstanding education with economic value. For the fourth consecutive year, Drake University is ranked in the top 40 nationwide and is the only Iowa university on the private universities list.
Drake University and the other schools included in the 2017 value lists represent the colleges that provide high-quality academics at a reasonable cost. The institutions exemplify the attributes parents and students look for in higher education, including faculty accessibility, a strong first-year retention rate, and a high four-year graduation rate. Cost criteria include sticker price, financial aid and average debt at graduation.
"Drake University has long been known as an exceptional university that prepares students for success after graduation," said Drake University President Marty Martin. "But we are continually exploring new ways to maximize the value of a Drake degree. In the past year we have taken major steps to make the cost of a Drake education more predictable, and to affirm the quality of education that we have provided for generations."
In September, Drake announced the Tuition Guarantee, which locks in the cost of tuition for the vast majority of undergraduate students during their time at the university. The Tuition Guarantee makes the cost of education more predictable, helps to maintain the value of renewable scholarships as a percentage of tuition, and saves family money compared to comparable universities' average annual rate of tuition increase over four years.
Also this year, the university articulated the defining features of a Drake University education through The Drake Commitment, a pledge that all incoming students will receive personal mentorship, broaden their world view through service-learning opportunities, have the flexibility to explore diverse interests, and gain access to research and internship opportunities that contribute to a great resume.
Kiplinger's full rankings were released online Dec. 15. Rankings will also appear in the February 2017 issue of Kiplinger's Personal Finance, on newsstands January 3.
Drake received numerous other accolades for academic quality, value, and return on investment in 2016. The inaugural Wall Street Journal/Times Higher Education ranking of U.S. colleges placed Drake University at 135 in a list that includes more than 1,000 schools nationwide. U.S. News and World Report gave Drake the No. 3 spot on the publication's 2017 rankings in the category of best Midwest master's institutions.
Last year, The Economist ranked Drake University 17th nationally for return on investment—with alumni earnings that are in the 98th percentile of all four-year, non-vocational private colleges. A report by the nonprofit Brookings Institution found that Drake University adds more than 32 percent to the projected mid-career earnings of demographically similar graduates from institutions with similar characteristics.
Visit www.drake.edu/admission to learn more about Drake's admission process and academic offerings.
##
Note: This article was updated June 16, 2017, to reflect a revision by the Wall Street Journal/Times Higher Education of their annual rankings data. The publication upgraded Drake's overall national ranking to 135, up from the original rank of 149.