This article was updated June 16, 2017, to reflect a revision by the Wall Street Journal/Times Higher Education of their annual rankings data. The publication upgraded Drake's overall national ranking to 135, up from the original rank of 149.
The inaugural Wall Street Journal/Times Higher Education ranking of U.S. colleges placed Drake University at 135 in a list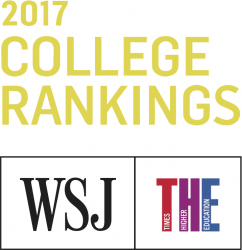 that includes more than 1,000 schools nationwide. The new rankings are based on 15 key indicators that assess colleges and universities in four areas: outcomes, resources, engagement, and environment. The list combines public and private institutions of all sizes into a single list. Drake performed exceptionally well in the measurement of value added to salaries for graduates, scoring 93.5 out of 100.
The Wall Street Journal/Times Higher Education College Rankings is pioneering in that it puts student success and learning at its heart. The 15 performance indicators on which it is based have been selected in order to answer the questions that matter the most when choosing a university. An explanation of the methodology is at www.on.wsj.com/college-ranking-methodology.
"This ranking is yet another testament to the exceptional value of a Drake degree—a value we are continuously enhancing with initiatives such as The Drake Commitment and the Drake Tuition Guarantee," said Drake University President Marty Martin.
Data sources include the Times Higher Education (THE) U.S. Student Survey of 100,000 current U.S. students, and the annual THE Academic Reputation Survey of 10,000 scholars in 133 countries, along with public data on areas including completion rates, graduate employment, and loan repayments.
"Our aim is to assess each university's success in achieving their educational mission, rather than focusing on a narrow set of inputs," said Times Higher Education Rankings editor Phil Baty.
This is the third ranking in the last 18 months that validates the salary boost a Drake education provides to graduates. One analysis from The Economist found that Drake University degree recipients earn $8,799 more per year, 10 years after graduation, than they would have been expected to earn had they attended another college or university. The Brookings Institute reported that Drake University adds more than 32 percent to the projected mid-career earnings of demographically similar graduates from institutions with similar characteristics.
Among Drake's 2015 bachelor's degree recipients, 98.9 percent had a job or graduate school acceptance within six months of graduation. Ten years after entering Drake, graduates earn almost $20,000 more than peers nationally (Department of Education College Scorecard)—No. 1 in the state of Iowa. Earlier this month, U.S. News & World Report ranked Drake University third for overall quality among universities in the Midwest for the eighth year in a row.
Prospective students are invited to learn more about Drake's academic programs and schedule a campus visit at www.drake.edu.
The Wall Street Journal is the preeminent source of global business and financial news, with the goal of providing context and insight that helps parents and prospective students make what is often a life-defining decision. Times Higher Education is a global higher education data and analysis business with headquarters in London and offices in San Francisco, Chicago, Melbourne, and Singapore.