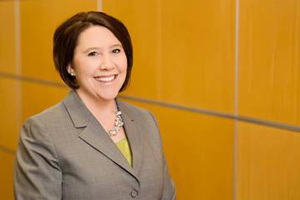 When Kristina Stanger was a freshman at Central College, she sat next to a National Guard Airman on a plane. Stanger—who was the first in her family to attend college—talked to the man about the financial and educational benefits of serving in the military.
A week later, Stanger joined the Iowa National Guard—and has served for the past 18 years.
"It started as a way to pay for school and prepare long-term for a legal career. I knew I was going to go to law school, and this was a way to make it happen," Stanger says.
After basic and advanced training, Stanger went to Officer Candidate School (OCS) through the U.S. Army. She graduated from college and commissioned as a second lieutenant, married her husband, Doug—who was also serving in the military—and began at Drake Law School in the fall of 2001.
The 9/11 attacks happened just a few weeks into her first year as a law student, and Stanger knew it would change both her and her husband's lives.
"We knew we would be deploying at any time, and we started to prepare," she says.
That time came in January 2003. Sitting in Professor Matthew Doré's class, Stanger got a phone call and knew this was it.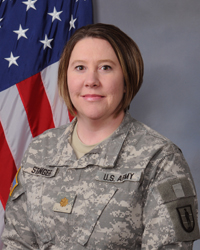 She was deployed to Mosul, Iraq, where she led an ambulance platoon of 30 soldiers for 15 months.
"I was in a leadership role at 24 years old," Stanger explains. "I had an obligation to do our mission and get these people back safely. It was an incredible honor, but it was scary and very different from law school."
Coming back to the United States and law school was challenging as well. Stanger picked up her coursework where she left off, knowing her Drake Law classmates had already graduated.
"I felt behind. Everything I did for that year and a half was so different," she explains. "I went from being in charge of all these people with their families depending on me to studying Evidence. It was a difficult transition."
Stanger graduated from Drake Law School in December 2005, passed the bar, and was hired at Nyemaster Goode PC in Des Moines, Iowa, that spring.
Over the past decade, Stanger has continued to serve as a military leader while practicing law and raising a family—with her husband often deployed overseas.
"For the first eight years of our marriage, we spent more time apart than together," Stanger says. "At one point, I was a mother of two young kids, my husband was in the mountains of Afghanistan, and I was trying to run a law practice."
Stanger credits her husband, extended family, and the Nyemaster law firm for being flexible with her military duties, which include drill weekends each month as well as week-long trainings throughout the year. In addition, she served as an instructor at Officer Candidate School as well as the first and only female commander of the organization.
Stanger says her military experience has helped her be a better lawyer, from building leadership skills to mental toughness.
"Knowing how to manage pressure and calmly attack an issue is something the military honed in me," she explains. "That strategic planning and resiliency are skills that transcend into practicing law."
Eighteen years after joining the Iowa National Guard, Stanger says she's not done yet. She plans to continue serving as long as she is able to balance her military duties with her law practice and kids' soccer games.
"It defines a very strong part of who I am, who my family is," Stanger says of her military experience. "I wouldn't have it any other way."