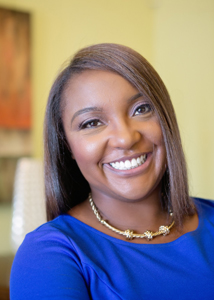 Shontavia Johnson has a lot of goals.
The Drake Law professor and Kern Family Chair in Intellectual Property Law has only been director of Drake's Intellectual Property (IP) Law Center for less than six months, but she has big plans for the program.
This fall, Johnson already brought three IP experts to campus for lectures, helped organize a legal symposium, and was featured in local and national media for her writings on various IP topics.
"My goal for the center is to be an educational, innovative hub of resources for IP, agriculture, biotechnology, and entrepreneurship," Johnson says.
Drake Law School has no shortage of opportunities. As the only law school in the capital city of Des Moines and located in central Iowa—often referred to as the "Silicon Valley" of agricultural biotechnology—Drake Law School is uniquely positioned to be a major player in the IP arena.
Johnson plans to take advantage of the Law School's location and incorporate more biotechnology and agriculture into the curriculum.
"The Midwest—and Des Moines in particular—is a great place for entrepreneurship," Johnson says. "Farmers are entrepreneurs, they have their own businesses. A lot of large biotech industries start out as small start-up companies. So fostering that innovation at Drake Law School is something I want to do."
Despite her passion for IP now, Johnson says she "fell into" the field by chance. As a law student with a B.S. in Biosystems Engineering from Clemson University, she was encouraged to combine her engineering background with IP law.
Today, Johnson encourages students with a wide range of interests to pursue IP law, explaining that the field incorporates many different areas—from criminal law to property law to contract law—and is relevant in our everyday lives.
"Intellectual property allows us to use different types of law in technology and innovation, which is all around us," Johnson says. "My pen has a clicking motion; that probably needs both patent and trademark protection. The flowers on my desk are bioengineered, genetically modified flowers. Whether a student is interested in 3D printing or facial recognition technology, IP is all those things."
To create a national platform for innovation, Johnson is tackling various issues through scholarship. She has written in numerous academic journals on topics such as the use of unregistered trademarks on the internet and the role of the 13th Amendment on permanent tattoos.
Media outlets from the Washington Post to TIME have featured her columns on trademarks in the Olympics, Prince's legacy in copyright law for music, and Donald Trump's social media influence.
Johnson's efforts have not gone unnoticed. In the past year alone, she was named one of the inaugural Top 40 Young Lawyers by the American Bar Association, received the Women in STEM Award from INSIGHT Into Diversity, and awarded the A. Leon Higginbotham Jr. Fellowship by the American Arbitration Association.
Despite her many achievements, Johnson is just getting started.
"I'm going to continue working to get involved on a national stage," Johnson says. "Bringing in different speakers and alumni from around the country to share their ideas. Graduating new lawyers who are competent in the IP space. Creating opportunities for the Law School not just here in the United States, but abroad."
"Those are some goals of mine."
To learn more about Shontavia Johnson, visit her faculty profile.