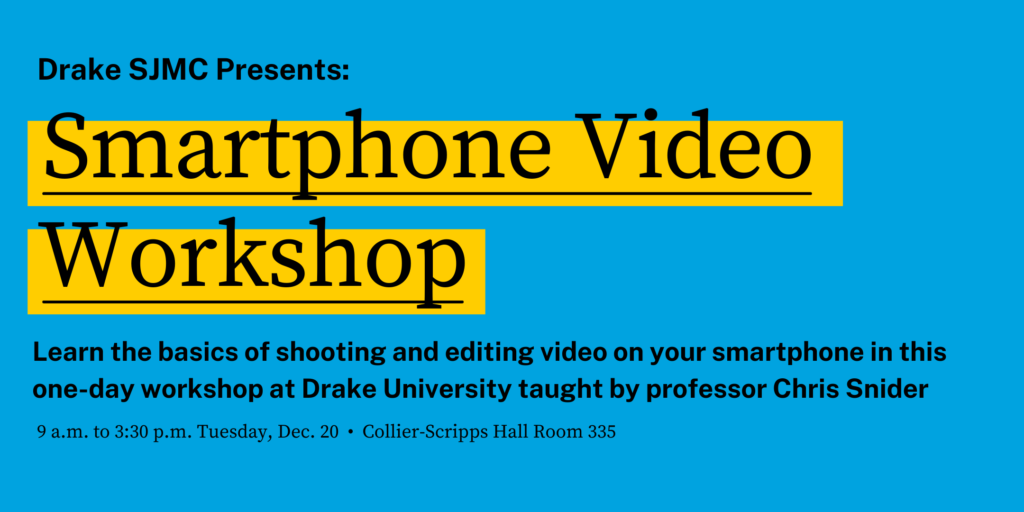 Associate professor Chris Snider will be teaching a Smartphone Video Workshop Dec. 20 at Drake University. This event is part of the Drake School of Journalism and Mass Communication's new workshop series.
This class will teach you the basics of shooting quality video as well as how to edit that video with your smartphone. Attendees will work in teams to shoot and edit at least two videos during the day-long workshop. We will use the free app CapCut to edit videos.
This workshop is great for anyone looking to create videos on YouTube, Facebook, Instagram, TikTok and other social networks.
Cost for the workshop is $125 if you sign up before 5 p.m. on Dec. 9. After that the cost of the video workshop is $175.
The event will be held in room 335 of Collier-Scripps Hall on Drake University's campus.
Sign up for the workshop here.
Smartphone Video Workshop Schedule
Morning session: 9 a.m. to noon
Introductions
Basics of shooting video
Shooting our first video
How to edit in CapCut
Lunch/networking on your own: Noon to 1 p.m.
Afternoon session: 1 p.m. to 3:30 p.m.
Finish up editing if needed
Watch videos
Interviews and external microphone video
Editing time
Watch videos