Members of Drake Law School's Black Law Student Association (BLSA) attended the National BLSA Midwest Regional Convention this month. The theme of the 51st annual convention centered on civil rights, entitled The Revolution Will Not Be Televised: Standing Up in the Midst of Adversity. Students heard from notable judges, attorneys, and community activists, and also participated in community service activities and networking events over the course of three days.
Since 1968, the national BLSA association has worked to further its mission of "increasing the number of culturally responsible Black and minority attorneys who excel academically, succeed professionally, and positively impact the community." Regional boards of student leaders champion the mission locally. Elections take place each year at conventions across the country. The Midwest region, the largest in the association, includes 52 law schools representing 15 states.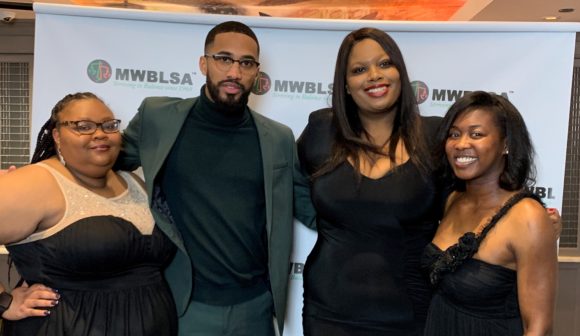 Bria Carr (2L) ran for and was elected Sub-Regional Director 3. She will cover Iowa, Illinois, Minnesota, and Wisconsin. Selections were announced at the Black Excellence Gala on the last night of the convention.
"Through programming, I'm looking forward to connecting institutions in the Midwestern region," she shares.
The Drake BLSA executive board intends to grow their involvement on a regional and national level, recognizing how meaningful it is to connect with a larger body of peers. Ashley Kirkwood, a keynote speaker at the convention, pointed out that the journey differs for everyone, but the shared experience of minority students is the adversity they often have to overcome.
On campus, the student organization has been like a second family to Carr, providing a community from day one to ease the transition to Des Moines from her hometown of Milwaukee.
A welcome ceremony for incoming students is hosted by BLSA every year. Alumni and friends of Drake Law School are also invited. As part of the celebration, BLSA recognizes an individual who has been an active supporter of the group. Recent honorees include Judge Odell McGhee, II (LW'77) and Judge Romonda Belcher (LW'95).
"It's a great way to introduce our members to the legal community in Des Moines and show them that the support they have through BLSA extends beyond campus," notes Carr.
Carr also highlights the 1L mentorship program. Each student is matched with a professional to serve as their mentor, another way that BLSA promotes the success of its members.
"As president, my goal for BLSA is to provide resources, support, and a sense of community to incoming minority students while including the whole student body in our efforts. I believe our charity drive for the local family that lost everything in a house fire and community service event with Meals from the Heartland were a couple successful events that demonstrate that," says Bevin Holloway.
To learn more about student activities and organizations at Drake Law School, visit drake.edu/law/students/activities.