Early this morning, ITS staff became aware of a major phishing attack on campus. People are receiving emails that appear to be from Drake community members,.
All of the emails have a similar format, but some minor language variations. The subject is "Re: Re" or "Re:" and then is followed by something that seems like a likely email topic.
The body of the email says:
"Cannot show this email" or "Unable to show this email", or "Unable to show this message" or similar language.
Then there's some variation of a box that asks you to click here to view this message like the image below.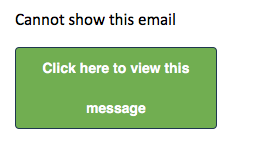 Below that is "IMAP message delayed" or "HTML message delayed" or similar language and a string of letters and numbers.
If you receive this email, delete it right away.
If you clicked on the box, you must change your password immediately to protect your account and campus data.
If you've previously set up password recovery tools using password.drake.edu, you can change it online. If you haven't set up recovery options, or you would like assistance resetting your password, please call the Support Center at 515-271-3001.