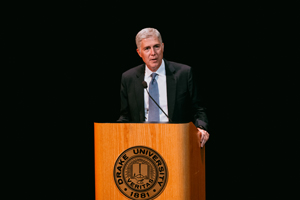 Neil M. Gorsuch, Associate Justice of the Supreme Court of the United States, gave a special lecture at Drake University on Aug. 16.
Addressing approximately 350 Drake Law students, faculty, and staff in the Harmon Fine Arts Center, Gorsuch said, "I am delighted to be in Iowa at the home of one of the nation's oldest law schools."
In his lecture, Gorsuch talked about the importance of courage in the legal profession—from the first day of law school to becoming a senior attorney or judge.
"Courage has been an essential ingredient in this nation since its beginning," he said. "Courage will be required of you, and there will be times when you will be tested. You must be willing to stand up and stand firm for justice in the midst of immense pressure."
Gorsuch pointed to several examples of courage throughout history, including Justice John Marshall Harlan, who was the lone dissent when the U.S. Supreme Court upheld racial segregation as constitutional in 1896. He also talked about the importance of self-restraint by judges to uphold the constitution as adopted and empower the people to create new laws through legislation.
Gorsuch ended by welcoming the Drake Law students to the profession and advised them to acknowledge their mistakes, learn from failure, and do the right thing—even if it is the unpopular choice.
"You need to decide at the beginning what kind of lawyer you want to be," Gorsuch said. "How you conduct yourself is going to be watched from the day you walk out those doors. The one thing you won't regret is being kind."
After the lecture, Gorsuch answered questions from Drake Law Dean Jerry Anderson. Gorsuch talked about how decisions are made by the U.S. Supreme Court, the importance of keeping hobbies in law school, and tips for successful advocacy.
"We were honored to host Justice Gorsuch," Anderson said. "This was an extraordinary opportunity for our students to hear from one of the nation's most prominent jurists."
Gorsuch is the 14th former or sitting U.S. Supreme Court justice to visit Drake. Law students have previously engaged with justices at lectures or special seminars sponsored by Drake's nationally renowned Constitutional Law Center.
Mark Kende, director of the Constitutional Law Center and James Madison Chair in Constitutional Law, said, "Our students benefit from the opportunity to hear from leading constitutional experts such as Justice Gorsuch and relate their classroom knowledge to key issues happening in the country right now."
Gorsuch was born in Denver, Colo., on Aug. 29, 1967. He received a bachelor's degree from Columbia University, a law degree from Harvard Law School, and a doctorate in philosophy from Oxford University.
After law school, he served as a law clerk to Judge David B. Sentelle of the U.S. Court of Appeals for the District of Columbia Circuit and to Justice Byron White and Justice Anthony M. Kennedy of the U.S. Supreme Court. From 1995 to 2005, Gorsuch worked in private practice in Washington, D.C. and later served as Principal Deputy Associate Attorney General at the U.S. Department of Justice.
In 2006, President George W. Bush appointed Gorsuch to the U.S. Court of Appeals for the Tenth Circuit, a position he held for over a decade. During that time, he was a member of the Standing Committee on Rules for Practice and Procedure of the U.S. Judicial Conference and chaired the Advisory Committee on Rules of Appellate Procedure.
President Donald Trump nominated Gorsuch to the U.S. Supreme Court on Jan. 31, 2017, and he took his seat on April 10, 2017.