Kappa Psi Beta Chi Chapter, a Drake University professional pharmacy fraternity, was named #2 out of more than 130 Kappa Psi collegiate chapters for 2017-2018.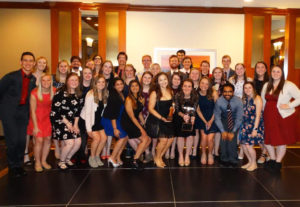 Each year collegiate chapters are ranked based on their performance and involvement during the past academic year. Kappa Psi Beta Chi has been ranked #3 in previous years, but this is the first year they have been honored as the #2 chapter in the nation.
"Through the leadership and hard work of the 2017-2018 Executive Council, we wanted to surpass the expectations and take our commitment to a new level that has never been seen," Beta Chi leader Alex Maciejewski said. "In the past year, we were able to expand our horizons and bring many new opportunities for brothers in the fraternity to expand their professional experience on Drake's campus and in the community."
Beta Chi has a history of being an active and accomplished chapter. They have contributed greatly to Kappa Psi's national philanthropy, Reach Out and Read, donating nearly 300 books to the organization. Beta Chi also had 2 members recently elected to regional positions within the Northern Plains Province.
"This honor is validation of the hard work that everyone in our chapter has put in to making us not only a top preforming chapter, but the #2 chapter in the nation. Not only have we met the expectations of Kappa Psi, but we have surpassed them," Maciejewski said. "This honor also means that in order to continue being the #2 chapter in Kappa Psi, we will have to continue to work very hard and further push ourselves this next year."
In the next year, Beta Chi looks forward to promoting their national philanthropy to campus, continuing involvement in the regional Executive board, and welcoming a new pledge class.
"Beta Chi will to continue the activities that have brought us this success over the past year while also still finding ways to challenge ourselves and grow as an organization."