Zenith Chamber Music Festival enters fourth season with internationally-recognized musicians and Iowa local artists; festival takes place August 14–18, 2018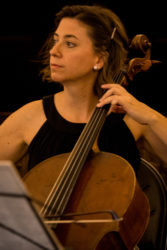 Drake University is pleased to announce the fourth season of the Zenith Chamber Music Festival, August 14–18, 2018. The Zenith Chamber Music Festival is a family-friendly, annual summer concert series that brings world-class musicians to central Iowa. For the last three years, the music festival has been enhancing arts in the community by providing concert-goers a unique cultural experience in some of the most attractive venues Des Moines has to offer.
"We are thrilled to be back for the fourth season of Zenith. We are very excited to be able to offer these free concerts to the community and to showcase Zenith's internationally-acclaimed artists," said Artistic Director Ashley Sidon, the Briggs Endowed Professor of Cello at Drake University. "Zenith continues to bring classical music out of the traditional concert halls and into the community for an exceptionally accessible and memorable experience—our fourth year may be our best yet."
Zenith commands a unique identity as a festival that celebrates highly acclaimed artists who bring fresh and innovative ideas to Des Moines audiences while at the same time showcasing select local artists. The festival also provides a structure for mentoring young artists. This year, young artists will have the opportunity to learn directly from the guest artists at a master class. Each performance will feature highly acclaimed musicians tackling challenging compositions. All performances being free and open to the public.
This year's free concert series dates, times, and locations:
Tuesday, August 14: Opening night at The Ballroom at the Temple for the Performing Arts (7:30 p.m.)
1011 Locust Street, Des Moines, IA
Wednesday, August 15: Jasper Winery (6:00 p.m.)
2400 George Flagg Parkway, Des Moines, IA
Thursday, August 16: Jazz with special guest Damani Phillips, Johnston Library (6:30 p.m.)
6700 Merle Hay Road, Johnston, IA
Friday, August 17: Plymouth United Church (7:30 p.m.)
4126 Ingersoll Avenue, Des Moines, IA
Saturday, August 18: Drake University, Sheslow Auditorium (7:30 p.m.)
Drake University, 2507 University Avenue, Des Moines, IA
Featured musicians include:
Anna Reider, violin, concert mistress of the Cincinnati Symphony Orchestra
Helen Hwaya Kim, violin, performs with Atlanta Symphony Orchestra and Atlanta Opera Orchestra
Sheldon Person, viola, is assistant principal viola with the Houston Symphony
Paula Kosower, cello, is cellist with the Chicago Symphony Orchestra
Kelly Kuo, pianist and conductor of the Oregon Mozart Players
The Zenith Chamber Music Festival is a non-profit entity of Drake University, supported by grants and donations. In addition to private individual donors, there are new and exciting corporate and foundation sponsorship opportunities for organizations interested in supporting the arts in Central Iowa through innovative programming. More information about the festival is available at http://zenith.wp.drake.edu.