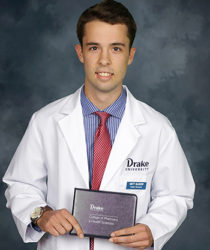 P4 student Matthew Glasow was named one of three finalists in the 2018 Next-Generation Pharmacist awards for the Future Pharmacist category.
"We congratulate Matt on his selection as a finalist for this award, and are proud that Drake is the program with the largest number of finalists since the award's inception," Dean Renae Chesnut said. "This is evidence of the quality of our program to prepare students to be leaders in the pharmacy profession."
Established through a joint partnership of Parata Systems and Pharmacy Times, the Next-Generation Pharmacist recognition program honors pharmacists, technicians, student pharmacists, and industry advocates who are defining the future of the industry. The Future Pharmacist Award is bestowed on a student or graduate student pharmacist who demonstrates spirit and passion for the profession. CPHS Dean Renae Chesnut nominated Glasow for the Next-Generation award.
"To know Dean Chesnut nominated me is such an honor in itself. I have always looked up to her for her strong leadership skills and for her many contributions to the pharmacy profession over the years, which makes the nomination really special for me," Glasow said. "I was extremely humbled when I found out she had nominated me, so being named a finalist is really just icing on the cake."
Glasow joins a number of other Drake pharmacy students who were finalists in previous years: Katie Starbuck (McDonald), Hue Nguyen, Natalie Schmitz, Natalie Roy. Laura Elizabeth (Vollmer) received first place honors in the Future Pharmacist category in 2014. It is noteworthy that Drake has had 6 finalists in the 9 years of the competition, which is the highest of any pharmacy program in the country.