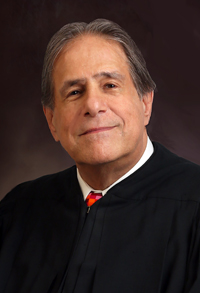 Drake University Law School has established a new Institute for Justice Reform and Innovation (IJRI), which will serve as a center for research and training on topics including implicit bias, sentencing reform, and improving trial procedures.
The Honorable Mark Bennett will direct the IJRI, beginning in August. The institute will involve Drake Law students in the research and training programs. In addition, Bennett will teach a class at the Law School and serve as a resource for faculty and students.
"I am very excited for Judge Bennett to join us," said Jerry Anderson, dean of Drake Law School. "He has devoted his entire career to improving the justice system in our country, and we look forward to providing him with a platform to continue this important work in collaboration with our students and faculty."
A 1975 alumnus of Drake Law School, Bennett was appointed a U.S. district court judge in the Northern District of Iowa by President Bill Clinton in 1994. He served as chief judge of the Northern District from 2000 to 2006 and assumed senior status in 2015.
Prior to his appointment, Bennett served as a U.S. magistrate judge in the Southern District of Iowa. He also worked in private practice for 16 years in employment discrimination, constitutional law, civil rights litigation, and federal criminal defense. In 1979, he argued the case Evans v. Oscar Mayer Co. before the U.S. Supreme Court.
While practicing law, Bennett was selected among The Best Lawyers in America and was the youngest lawyer in Iowa to receive an AV Preeminent rating by Martindale-Hubbell. He was also inducted as a Fellow in the Iowa Academy of Trial Lawyers.
Throughout his career, Bennett has sentenced more than 3,500 defendants and tried more than 400 jury trials. Two of his sentencings became landmark U.S. Supreme Court decisions.
Bennett has visited more than 250 defendants he personally sentenced across the nation and published his experiences in a Judicature article titled "Hard Time: Reflections on Visiting Federal Inmates." He also wrote a highly acclaimed op-ed piece opposing mandatory minimum sentencing in The Nation magazine, and he appeared on MSNBC and NPR to discuss the issue.
One of the nation's leading experts on implicit bias, Bennett has published more than 1,400 opinions and 24 law review articles in journals including the Journal of Criminal Law and Criminology and the Harvard Journal of Law and Public Policy.
Bennett has also lectured across North America and trained over 1,500 trial and appellate judges on implicit bias. In 2012, he was featured in "The House I Live In," a BBC documentary on crime in America, which won the Grand Jury Prize at the Sundance Film Festival.
His current research and writing focus on: 1) a statistical analysis of federal sentencing by the U.S. Supreme Court and Courts of Appeals; 2) gender implicit bias in evaluating and awarding emotional distress damages; 3) Afrocentric facial feature and skin tone bias in the justice system; 4) developing a better presumption of innocence instruction; and 5) cognitive psychology studies on the role of earwitness testimony.
Bennett's many involvements include serving on the Board of Governors of the Association of Trial Lawyers of Iowa and as a Master of the Bench and founding member of the Blackstone Inn of Court. He has also held numerous leadership roles in both the American Bar Association and Iowa State Bar Association.