Drake University is pleased to announce that it earned a rating of Two Green Globes for the construction of its newest academic buildings, the Science Connector Building and Collier-Scripps Hall. The project, part of the STEM@DRAKE initiative, is the second in Iowa to earn the Two Green Globes rating, and the first on Drake University's campus.
"Achieving a rating of Two Green Globes is a testament to the University's commitment to sustainability," said Drake University President Marty Martin. "These buildings will serve our students, faculty, staff, and community for years to come in ways that should make the entire community proud."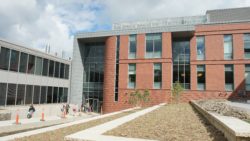 Administered by the Green Building Initiative (GBI), Green Globes is a nationally recognized green rating assessment and certification tool that ensures projects meet high standards in environmental, water, and energy efficiency. The certification demonstrates the University's commitment to environmental sustainability, and puts it one-step closer to achieving its goal of reducing its carbon footprint by 25 percent.
"We are proud to be a leading institution when it comes to environmental efficiency practices," said Kevin Moran, executive director of facilities planning and management at Drake University. "From the very beginning, we worked closely with skilled professionals to create a design that would exceed sustainability standards."
The Science Connector Building and Collier-Scripps Hall received a Two Green Globes rating due to sustainable features such as:
White roof and concrete to promote indoor cooling
Energy-efficient windows to reduce the buildings' electricity use and draw daylight indoors
Drought-tolerant plantings so that watering is not required
More than the recommended amounts of insulation in the roof and walls to decrease heating and cooling demands
Energy efficient LED lighting fixtures inside and outside the buildings
Sensors that power down light fixtures when an area is not in use
Easy access to public transportation and rental bicycles
Low flow water fixtures to reduce water usage
Recycling facilities conveniently located throughout the building
Excellent indoor air quality
Extensive use of materials with little to no volatile organic compounds (VOCs)
The Science Connector Building and Collier-Scripps Hall opened their doors to students last August as part of the University's STEM@DRAKE initiative. The buildings help form a central hub on campus for classes in the sciences, technology, education, and mathematics.