When P4 student Michael Harvey found out he was being presented with the 2018 Karbeling Leadership Award, the first thing he did was research the professional accomplishments of the award's namesake.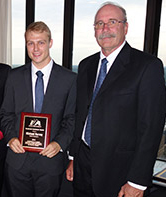 "Jerry's dedication to the profession of pharmacy here in Iowa stands out, but I learned so much more about him through people who knew him personally," Harvey said. "I had the opportunity to speak with several pharmacists from around the state and learn about what kind of person Jerry was. Jerry would put 100% into everything he did and encouraged those around him to do the same. He truly left an impact on the pharmacy family here in Iowa."
The Karbeling Leadership Award was established by the Iowa Pharmacy Association Foundation as a tribute to the leadership and service of the late Jerry Karbeling, PH'74. The award reflects Jerry's passion for involvement in both professional organizations and the political process. One Drake University and one University of Iowa student pharmacist who demonstrate outstanding participation in these areas are recognized each year at the IPA Annual Meeting.
Harvey said he looks forward to the IPA meeting every year to catch up with pharmacy students from across the state as well as making new friends.
"I enjoy hearing about all of the incredible pharmacy things going on here in Iowa from research at both Drake University and the University of Iowa, to CPESN, and the Wellmark Value-Based Network."
In the future, Harvey looks forward to meeting new people, making connections, and traveling around the country.
"After I graduate, I hope to have secured a post-graduate position at an innovative practice site where I can further develop my clinical skills before transitioning into a role where I can use some of the many non-patient care skills that I have been able to cultivate throughout my time at Drake."