New data highlights how Drake adds to the vitality of Central Iowa and its capital city. The University's alumni are an essential part of the equation.
Drake is a "brain gain" institution, according to a new economic impact study.
Nearly 70 percent of Drake students come from outside Iowa—with only 19 percent coming from the Des Moines metro area—and more than half stay after graduating.
Drake alumni currently hold 15,259 jobs in the Des Moines area, and those alumni indirectly support another 14,259 jobs. In total, the economic activity associated with Drake alumni contributes approximately $2 billion, or 4 percent, to Des Moines' GDP, according to the study by Impact DataSource.
15,259 = $2B = 4%
Drake alumni contribute a total of $183.9 million to state and local tax districts, including $53.1 million to Des Moines Public Schools, $47.9 million to the State of Iowa, $48.6 million to the City of Des Moines, $21 million to Polk County, and $13.3 million to other local tax districts.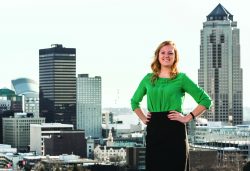 "Drake alumni make a meaningful contribution all over the globe—but nowhere are their achievements more visible than in central Iowa, where they put their skills to work as corporate executives and nonprofit leaders, elected officials and court justices, public school superintendents, entrepreneurs; in short, in every aspect of business and society," said John Smith, vice president of University Advancement. "Des Moines is stronger for the thousands of Bulldogs who choose to call it home."
Read the full press release in Drake's Newsroom.