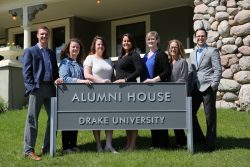 Andy Verlengia, JO'02, is the new director of Alumni Relations! Learn more about him, his team, and the big plans they have for Bulldogs.
Q: You received your undergraduate degree in journalism from Drake. What is your favorite memory from your time as a student?
A: Drake University has always been a place where you can form meaningful relationships with classmates, professors, and staff. It's a place where you can make an impact from the moment you step on campus, and you are never "just a number."
One of my favorite memories is participating in the largest student-run broadcast in the country with the Drake Broadcasting System. During the Relays, I served as a field reporter, which meant I had the opportunity to meet and speak with Olympians and other world-famous athletes. It was an amazing opportunity to see the Relays from a different perspective and gain incredible real-world experience while in college. I would have never had an opportunity like that at a larger school.
Q: As you step into this role, what is your vision for Alumni Relations? Are there new programming ideas you'd like to explore?

A: I am honored to represent and serve the 74,000 Drake alumni across the world. Our team will work to find unique and innovative ways for Drake to be present in the lives of alumni, no matter where they are—geographically or in life.
Knowing that our alumni selected Drake for its stellar academic reputation and passionate alumni network, I think that it's important to offer intellectually stimulating programming, options to mentor or be mentored, career-related networking, and opportunities to engage with our students on campus. With that said, we will always welcome suggestions from our alumni on specific programs they would like to see.
It's our job to serve our alumni population while representing the University. We want to be the welcome sign for the University and the jumping-off point for anyone looking to deepen their relationship with their alma mater. If you're back in Des Moines, please stop by and visit us at the Alumni House. This incredible home, that we are lucky to call an office, belongs to our alumni and is a place we want them to take advantage of when visiting.
Q: You had a varied work history before arriving back at Drake. Are there things you've learned in previous positions that you're bringing with you to this job?
A: In 10 years of working at the Walt Disney World Resort, there were many lessons learned that will always stick with me.
Vocabulary was very important at Disney, with every customer referred to as a "guest." When we welcome alumni back to campus or to an event, we are the hosts and they are the guests. We want to ensure that the programs we offer are welcoming and beneficial to our alumni so that they feel excited about continuing to deepen their relationship with the University.
In the past year, I was fortunate enough to serve Drake as a major gift officer traveling the country and meeting many of our outstanding alumni. At each meeting, I was enthralled listening to the accomplishments and talents of our diverse alumni population. It is my hope that we will continue to build on our storytelling through e-Blue and Blue so that we may continue sharing what our amazing alumni have accomplished.
Q: What do you think is the Office of Alumni Relations' biggest role?
A: I believe our biggest role is finding new and creative ways for alumni to engage with the University and each other. We want to foster an environment where it's easy to network with each other, find (or be) a mentor, and provide support throughout each other's lives.
The Drake experience is so unique because of the relationships you develop on our close-knit campus. We want to continue to grow those relationships as the years pass. It's not just Drake talking at alumni; we want alumni talking to and communicating with each other.
Now that you know Andy a little better, get to know his team! 

Amelia Klatt, PH'13, is one of three assistant directors in Alumni Relations. Her primary focus is regional alumni engagement. She serves alumni by traveling throughout the country to connect and engage with various alumni bases, as well as connecting alums with each other. Her favorite part about engaging with alumni is learning how their experience at Drake has affected them personally and professionally.
Fun fact about Amelia: While a senior at Drake, she had the opportunity to travel to Ecuador for J-Term. The class spent time in the Galapagos Islands, where she was able to encounter her favorite animal, the tortoise, in its natural habitat!

Mark Reiter, JO'15, is another assistant director. His primary focus is Central Iowa alumni engagement. He works closely with the Central Iowa Regional Advisory Board and plans events for the 20,000+ alumni in Central Iowa. Mark's favorite part about his job is listening to stories from alumni about their time at Drake. "I think it's fascinating to hear what's changed and learn what campus was like when they lived here."
Fun fact about Mark: During his sophomore year at Drake he spent a semester doing anthropological research in Ghana. For his last month in the West African country, he lived with the fishermen of a small coastal village where he conducted research on their way of life and the fishing industry.

Kim Jones is also an assistant director. Her primary focus is campus and student engagement. Kim connects students to alumni in order to create a seamless experience that reinforces Drake's mission. Kim works closely with the Student Alumni Association and enjoys watching the students have face-to-face encounters with alumni. "There is an absolute moment of realization of the continuum of success between the Drake student experience and the impact our alumni have on the world beyond Drake.
Fun fact about Kim: She's married to George Jones. No, not the country music legend. Kim's George, better know as Buck, is a cartoonist in the Des Moines area.
Cathy Williams is the special events manager. Her job serves Drake alumni by laying the groundwork for a successful, well-run event—whether that event brings Bulldogs back to campus to reconnect with old friends or a lunch seminar where they learn something new while networking with fellow alumni and community members.
Fun fact about Cathy: She was in a collegiate circus during her time at Illinois State University.

Nicki Kimm is one of two administrative assistants. She wears many hats within Alumni Relations, but her primary roles include managing the budget, processing online event registrations, and supporting other positions within the house.
Fun fact about Nicki: She has never ridden a roller coaster.

Heather Hendrix is also an administrative assistant. She, too, juggles many responsibilities, but her primary roles include being the Alumni House historian, providing tours to visitors, processing information updates provided by alumni for Blue magazine, and supporting other positions in the house.
Fun fact about Heather: She has run four marathons.
Get to know Andy and the rest of his team by attending events that are put on by the Alumni Relations team! Learn more at alumni.drake.edu/events.