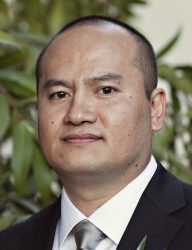 Kevin Lam, assistant professor of urban and diversity education at Drake University, will receive a 2016 Critics' Choice book award for his book titled Youth Gangs, Racism, and Schooling: Vietnamese American Youth in a Postcolonial Context.
The American Educational Studies Association (AESA) will present the award to Lam during the association's annual conference in November.  Established in 1968, AESA is an "international learned society for students, teachers, research scholars, and administrators who are interested in the foundations of education."
Every year, a committee of AESA members hand picks titles it regards as exceptional and that may be of interest to those in educational studies. These books are then nominated as AESA Critics' Choice Award winners.
Youth Gangs, Racism, and Schooling (Palgrave Macmillan, 2015) examines the formation of Vietnamese American youth gangs in Southern California. In the book, Lam addresses the particularities of racism, violence, and schooling in an era of anti-youth legislation and frames gang members as post-colonial subjects, offering an alternative analysis toward humanization and decolonization.
"The book focuses on the specific context of Vietnamese American youth gangs; however, it also raises larger philosophical and political questions about power relations, identity, and difference," said Lam. "These themes are central in the courses that I teach."
Lam teaches in the Department of Teaching and Learning and is director of the Social Justice in Urban Education (SJUE) program in Drake's School of Education.
Drake University's SJUE program seeks to educate culturally responsive teachers to work effectively with all students in urban settings—particularly students of color, working-class students, immigrant students, and students from historically marginalized populations.  Aligned with the School of Education's commitment to academic reflection, collaborative learning, and social justice, the program seeks to help teachers critically examine urban contexts, so that they may develop pedagogical knowledge and tools to work with students in these contexts.