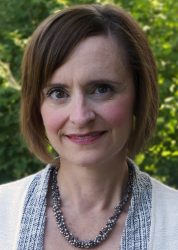 The Executive Education Center at Drake University hired its first full-time director, Sarah Ramsey. The center is focused on developing exceptional leaders, and in its first year of operation prepared more than 50 central Iowa professionals for careers in the C-suite.
Ramsey, who has extensive expertise building strategic public and private partnerships in major U.S. cities across the country, joined the Executive Education Center from the United Way of Central Iowa, where she built and led a new public policy department and governance structure for United Way's legislative policy work. She led more than 11,000 community and business leaders, CEOs, partners, volunteers, and donors to create policy changes in the areas of early care and education, adult literacy, skilled workforce, hunger, and children's mental health.
"Relationships have been and will continue to be a driver in the success of our Executive Education Center," said Marty Martin, president of Drake University. "Sarah knows how to engage with the community to build and sustain major initiatives, and her leadership will be invaluable."
Previously, Ramsey served as administrative director for the UCLA Center for American Politics and Public Policy (2003–2004), research assistant for the UCLA Center for Urban Poverty (2003), research assistant for the Education Development Center in Boston, Mass. (1998–2001), and project associate for Target Group, Inc. (1996–1998).
"Drake's Executive Education Center is poised to become the premier professional development partner of choice for employers and individuals in the Midwest" said Ramsey. "I am a relationship builder and a connector who will spend a lot of time listening, asking tough questions, and identifying key paths forward in order to meet training and executive development needs. I look forward to giving back to our community through this invigorating work in the higher education field, and to helping the Executive Education Center meet a critical workforce need."
About the Drake University Executive Education Center
The center's Leading Others program, built in collaboration with a committee of top-level human resources executives, addresses a critical need for executive-track talent in central Iowa—a need identified by human resource professionals and chronicled in reports by independent researchers, including a 2014 Battelle Report on Iowa's economy. The Leading Others program provided professional development for more than 50 people last year, including 39 director-level employees. The Center also offers a Talent Development Series, one-day programs created in partnership with leading regional corporations and organizations. Through the Talent Development Series and Leading Others, the Drake Executive Education Center aims to serve as strategic business partner in talent development.
Individuals may go to www.drake.edu/execed to learn more about the program and apply for a variety of programming offerings.