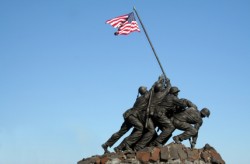 CONTACT: Lisa Lacher, 515-271-3119,
lisa.lacher@drake.edu
The RaySociety's course at Drake University on World War II: Iowans in the Greatest Generation Speak will conclude Tuesday, May 27, with a concert of Big Band music performed by the Iowa Military Veterans Band.
The concert, which is free and open to the public, will take place from 2 to 4 p.m. in the Performing Arts Hall of the Harmon Fine Arts Center, 25th Street and Carpenter Avenue.
The RaySociety, named in honor of former Iowa Gov. Robert D. Ray and his wife, Billie, promotes lifelong learning through non-credit educational opportunities and activities for individuals of retirement age in central Iowa.
Membership costs $50 per year and each class costs $25. For a full schedule of spring classes and activities, visit the RaySociety Web site or call 515-271-1847.