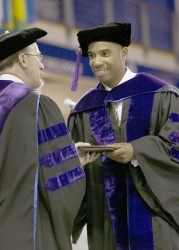 CONTACT: Tory Olson, 515-271-1834, tory.olson@drake.edu
Drake University gained 128 Law School alumni after the
graduates in the class of 2008 donned their caps and gowns at the Law School's
Commencement Ceremony last Saturday.
This year's graduating class,
which is made up of students from 21 states and 60 colleges and universities,
participated in the annual formal law student and faculty procession to the
Drake Knapp Center led by a bagpipe player. View a photo gallery of the
graduates, the processional and the ceremony online.
The ceremony featured a
commencement address titled "Opportunities" by Former Iowa Gov.
Robert D. Ray. Ray is a Drake alumnus who served as president of the University
from 1998-99.
Among the graduates who collected
their diplomas on Saturday, were many students with inspiring stories. Here are
a few to remember.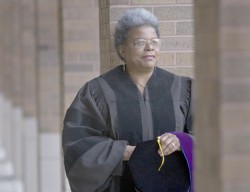 Deborah Turner poses for a photo before graduating last Saturday.
Surgeon earns law degree after seven years and countless volunteer positions
An intense desire to earn a law degree on top of her medical degree led Dr. Deborah A. Turner to squeeze in classes at Drake University Law School between her office hours and surgery schedule.
"I've always been interested in the law," said Turner, a gynecologic oncologist with Mercy Surgical Affiliates. "The more I got into my medical career and some of the extracurricular things I've been involved with, the more I saw that the law — how it works and how it affects or lives — is really important."
Turner came to Drake in 2000 through the Law School's Career Opportunity Program for part-time students. She finished her last class in December, then waited to celebrate the accomplishment by participating in the Law School's Commencement Ceremony on Saturday, May 17.
Even for a part-time student — no less a student with as many demands on her time as Turner — seven years is a long time to finish a law degree. But there were unusual circumstances that delayed her graduation.
Her younger sister, her best friend and supporter, Darlene Hill, died in 2004, and Turner took time off from Law School to handle additional family responsibilities.
She had meshed her medical practice with law classes for more than four years. During that time she also served as a member and president pro tem of the Iowa Board of Regents.
"At that point I wasn't sure I would ever finish law school," Turner said. "It was such a long haul, and, after a two-year hiatus, I wasn't sure I wanted to go back."
Yet she knew Darlene would have wanted her to complete her degree. "The idea for me to go to law school and get my degree was a dream of hers too," Turner said.
"I did this for myself, but I also did it for my sister. Finishing is a special thing."
Associate Dean Russ Lovell was one of the administrators and professors who urged Turner to return to the classroom.
"We didn't want to lose her because of outside misfortunes," Lovell recalled. "We talked with her about the special contributions she could make as a doctor-lawyer. There aren't many of those folks around. We also worked with her to find courses that would fit her demanding schedule."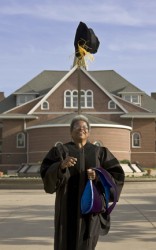 Deborah Turner tosses her cap in the air at the Law School graduation last weekend.
Turner said that when she's done practicing medicine, she
hopes to have a second career using her law degree. "I also am thinking of
ways to combine my training," she said. "It seems lawyers are
involved in a little bit of everything."
Turner, 57, is certainly involved in more than a little bit
of everything.
When she returned to Law School in 2006, she was also
serving as president of both the vocal music boosters and band boosters at Des
Moines Roosevelt High School. When she wasn't working, attending class or
studying, she juggled myriad fundraising projects for everything from choir
robes to musical instruments.
All that activity required an extraordinary support network:
her brother, Clarence; her 16-year-old son, Daniyel; and Darlene's daughter,
Danielle.
"As I walked down the aisle with the other
graduates," she said, "I was thinking hats off to my family,"
Turner said. "They've all been 100 percent supportive. I'm happy I made it
and I'm thankful to everyone who helped me get to this point."
That goes especially for her dad, Willie, "who taught
me you never meet a stranger," Turner said, and mom, Maybell, "who
helped me believe I could be anything I wanted to be."
No matter how many years it takes.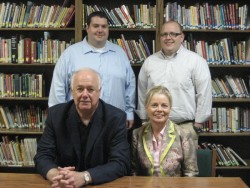 Jason Yates, Dustin Miller and Barry and Michele Griswell discuss plans for their project on the Crow Creek Reservation.
Drake law students plan economic development project in nation's poorest county
Instead of joining a law firm after graduation, two Drake University law students are teaming up with the head of one of the nation's largest insurance companies. Their goal is to spur economic development on the Crow Creek Reservation in the nation's poorest county — Buffalo County, S.D.
Dustin Miller and Jason Yates are forming the Harvest Initiative nonprofit organization with support from Principal Financial Group Chairman and CEO J. Barry Griswell and his wife, Michele. The Griswells have made a significant gift to cover the project's start up costs for two years.
The Griswells, Miller and Yates began their involvement with the Crow Creek Sioux Tribe through their church, Ashworth Road Baptist Church in West Des Moines, Iowa.
As they discussed their interest in getting more involved with the reservation, Miller and Yates proposed and developed the initiative, which emphasizes "more than charity — by offering a hand up as opposed to a hand out."
Yates said the Harvest Initiative also will include teaching financial literacy and job skills to high school students. In addition, the initiative will explore the possibility of establishing a cooperatively owned grocery store that would provide access to quality food at affordable prices.
Miller, 29, and Yates, 30, will collect Agricultural Law Certificates and then go on to take the bar exam. Later this summer, Miller and Yates and their families will move to Pierre, S.D.
Miller, a native of Lacona, Iowa, will relocate with his wife, Sara. He has experience with internships with the U.S. Department of Agriculture Rural Development and an economic development think tank, International Food Poverty Research Institute, in Washington, D.C. He spent the summer after his first year of law school in Kisumu, Kenya, with Opportunity International, assisting a microfinance institution. He helped establish the institution through internal development and oversaw the implementation of financial instruments developed at the grassroots level.
Yates, a native of Kirksville, Mo., will move with his wife, Betsy, and their two children, Hallie, 3, and Conrad, 1. His experience includes internships with USDA Rural Development, the Iowa Attorney General's Consumer Protection Division and the County Attorney's Office in Dallas County. He also worked on a project through Drake's Agricultural Law Center to research cooperatively owned grocery stores in rural Iowa.