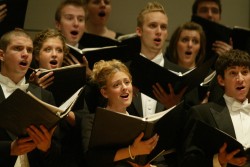 CONTACT: Lisa Lacher, 515-271-3119, lisa.lacher@drake.edu
Drake Choir members are posting daily journal entries and accompanying photos of their European tour on the choir blog.
The blog chronicles the choir's tour of Italy and Austria from May 22-June 3. Aimee Beckmann-Collier, Drake director of choral studies, conducts the choir, which is giving concerts in famous cathedrals such as:
St. Peter's Basilica in Rome
The Basilica di San Francesco in Assisi
Chiesa Santa Maria dei Ricci in Florence
Domkirche and Christuskirche in Salzburg
Melk Abbey near Vienna
St. Stephen's Cathedral in Vienna
Between performances, the 52 students in the choir will do lots of sightseeing, including a visit to the Mauthausen Concentration Camp.
The Choir's concert program includes "Agnus Dei," by Samuel Barber, "Os justi" by Austrian composer Anton Bruckner, "O Clap Your Hands" by Carl Staplin, Drake professor emeritus of music, "Sicut cervus" by Giovanni Pierluigi da Palestrina and "Missa St. Joannis de Deo" by Franz Josef Haydn.
Choir members raised funds for the trip through personal and family contributions, delivering singing valentines and performing an annual benefit concert. Support also came from Drake Student Senate, Drake alumnus and benefactor Jim Collier, as well as other Drake alumni and friends. The total cost of the trip, which is not paid for by any university funds, is $195,000.
The Drake Choir tours throughout the United States annually and internationally every four years. The ensemble has sung in Carnegie Hall, for the American Choral Directors Association North Central Division conference and with the Des Moines Symphony.