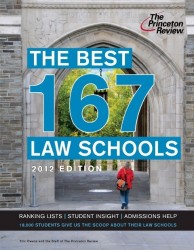 Drake University Law School's experiential learning opportunities, faculty accessibility, hands-on approach to teaching legal theory and preparation for the job market drew praise from students surveyed for the
Princeton Review
's latest rankings of the nation's best law schools.
The rankings were released in Princeton Review's 2012 edition of "The Best 167 Law Schools."
"We chose Drake University among the 167 law schools for this book based on our high opinion of their academic programs and offerings, as well as our review of institutional data we collect from the schools," said Robert Franek, Princeton Review senior vice president and publisher. "We also strongly consider the candid opinions of students attending the schools who rate and report on their campus experiences at their schools on our student survey for the book."
Franek said Princeton Review recommends Drake University to readers of the book and website as one of the best institutions they could attend to earn a law degree.
"We are extremely gratified by the Princeton study," said Drake Law School Dean Allan Vestal. "It confirms our commitment to experiential legal education and attention to students in an environment that values both teaching and scholarship."
To generate the rankings, The Princeton Review surveyed 18,000 students attending the 167 law schools profiled in the book. Conducted during the 2010""2011, 2009""2010 and 2008""2009 academic years, the student surveys were primarily completed online.
The book quotes a third-year Drake Law student as saying, "By the time I finished [my first year of law school] I had argued an appellate case in front of the Iowa Court of Appeals, eaten breakfast with the chief justice of the Iowa Supreme Court, witnessed a criminal trial from jury selection to final verdict in the law school's legal clinic and landed a summer clerkship with one of the largest firms in the state."
The publication also features the following comments from Drake Law students:

* Academically speaking, the "greatest strengths" of Drake Law are "the opportunities for practical experience" (practicum classes, clinics, clerkships, externships, internships, research assistant positions, teaching assistant positions), and "the accessibility of the faculty."

* Drake emphasizes a "hands-on approach" to teaching legal theory, with experiential learning opportunities bolstered by Drake's location in the state capital.

* Many students feel that they have "an edge on the competition in the legal job market" since they're prepared not just for the "legal analysis required to be an attorney," but also for "the ethical, technical, and [skills-based] parts of the job."

* Drake's mix of traditional and nontraditional students helps foster a sense of community, as one student said: "People want to get good grades here and study extremely hard for peak performance on the exam, but there isn't an atmosphere of "˜beating' people out of a score."

* The administration is "committed to scholarship, committed to the profession and committed to its students."
"The Best 167 Law Schools: 2012 Edition" also has advice on applying to law schools and funding the degree.