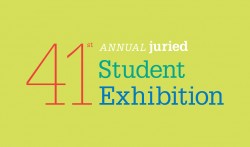 The Anderson Gallery at Drake University will present the 41st Annual Juried Student Exhibition on Sunday, March 4. The exhibition features work by Drake students from across artistic disciplines. The public can view the artwork through March 30.
Laurel Farrin, associate professor of painting and drawing at the University of Iowa, thoughtfully juried the exhibition. Farrin selected over 35 works for exhibition, and awarded nine works with high honors as Juror's Choice.
Additionally, Drake's Department of Art and Design faculty selected one work from the exhibition for the Provost's Purchase Award. Drake University will purchase the selected work and the piece will become a part of the permanent collection, spending its first year hanging in the Provost's office. Provost Susan Wright will present the honor at an award ceremony on March 4 at 2 p.m. President David Maxwell and Madeline Maxwell will also present the Juror's Choice awards.
The Anderson Gallery has also announced extended public hours on Thursdays; public hours will be 12 "" 8 p.m. The new hours will go into effect beginning the week of March 4.
For more information on the Anderson Gallery, please visit the gallery's website at http://artsci.drake.edu/andersongallery.