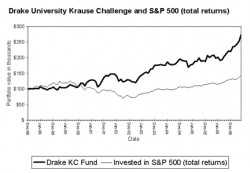 Drake wins Krause Challenge investment contest
Kum & Go, one of the nation's leading convenience store chains, has announced that Drake University is the winner of the 2007 Krause Challenge investment competition.
The financial results for the four schools from Sept. 1, 2006, through March 31, 2007, are as follows:
Drake University:

25.53 percent return; portfolio growth from $193,942.43 to $243,455.95.
University of Iowa:

19.74 percent return; portfolio growth from $160,475.47 to 192,154.93.
University of Northern Iowa:

12.83 percent return; portfolio growth from $110,362.66 to $124,524.17.
Iowa State University:

5.85 percent return; portfolio growth from $169,283.02 to $179,185.51.
All four schools helped to significantly increase the Krause Challenge portfolio this year, growing the funds from $630,000 to nearly $740,000, accounting for an overall 17 percent growth rate.
Kum & Go Founder and Chairman W.A. Krause said he is amazed by the effect and growth of the company's initial $100,000 donation to each university back in 1998. "We are proud of the many students who have excelled through the Krause Challenge," he added.
"The Krause Challenge has given our Finance 190 students the opportunity to invest real money and experience the competitive environment of the financial world," said John Rozycki, associate professor of finance. "Throughout the semester, our students work to develop a good understanding of how companies create and destroy value. We analyze companies one at a time -- inside out and upside down. When we have to decide between two stocks, there is tension and intense debate. By the latter part of the semester, the students know how to make a sound investment decision. You just cannot get these kinds of experiences from a textbook."