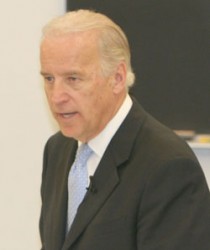 Joe Biden
CONTACT: Lisa Lacher, Drake University, 515-271-3119, lisa.lacher@drake.edu;

Julie Rutz, IowaPolitics.com, 515-226-8774, rutz@iowapolitics.com
Delaware Sen. Joe Biden, who is seeking the Democratic presidential nomination, will be the featured guest at the "Cookies and Conversation" event on Friday, July 13, sponsored by Drake University and IowaPolitics.com. The free event will begin at 11:30 a.m. in the auditorium of the State Historical Building, 600 E. Locust St.
IowaPolitics.com Bureau Chief Chris Dorsey will moderate the conversation and pose questions to Biden. Questions also will be accepted from audience members. Doors will open at 11 a.m. and reservations are required due to limited seating. For reservations, call 515-271-3747 or send an e-mail to iowacaucuses@drake.edu. Free parking is available at a parking garage located at Pennsylvania and Grand Avenue. On-street parking also is available.
The July 13th event will help note the kick-off of the state's "Caucus Iowa" exhibit at the State Historical Building. The exhibit will open this fall and feature photos and memorabilia from the past 30 years of Iowa's first-in-the-nation caucuses.
Biden is making his second run for the Democratic presidential nomination. He also was a candidate in 1988. He was first elected to the U.S. Senate at the age of 29.
Biden will be the third presidential candidate to speak in the Drake-IowaPolitics.com- series. Former Arkansas Gov. Mike Huckabee, a Republican, and New Mexico Gov. Bill Richardson, a Democrat, also have participated in the events.
The "Cookies and Conversation" series is designed to educate Iowans about the caucuses and give them an opportunity to meet presidential candidates. Each candidate's favorite cookie will be served along with beverages.
IowaPolitics.com is an independent, nonpartisan online news service and maintains a free Web site at www.IowaPolitics.com and a paid subscriber information service.
For more information about the July 13 event, contact Julie Rutz at 515-226-8774 or rutz@IowaPolitics.com.