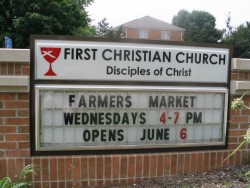 CONTACT: Ginny Gieseke, 515-277-6951, v.r.gieseke@worldnet.att.net;

Lisa Lacher, 515-271-3119, lisa.lacher@drake.edu
The Drake Neighborhood Farmers' Market will host Every Day Cook featuring Chef Joe at the July 11 market. Chef Joe will demonstrate easy-to-prepare recipes with fresh, in-season produce available at the market. Demos, which include free samples and recipes, are scheduled every 30 minutes during the market, which is open from 4 to 7 p.m. in the parking lot of First Christian Church, 25th Street and University Avenue.
Chef Joe, aka Joe Godfroy, is an owner of the restaurant Chef Joe's Place in the trendy East Village of Des Moines. A recipient of the Triple A Four Diamonds Award from the Marriott Corp., Godfroy has been sous chef and head chef at several private clubs and hotels in the Des Moines area.
Long an avid proponent of using locally grown produce and products in his cooking and his restaurant, Chef Joe said he is thrilled to promote Every Day Cooking at the source of fresh produce — the farmers' market.
The Every Day Cook is a project sponsored by the Iowa Department of Agriculture and Land Stewardship funded by a USDA Specialty Crops Block Grant Program, which assists state departments of agriculture in enhancing the competitiveness of U.S. specialty crops.
More than 20 vendors at the Drake Neighborhood Farmers' Market have Iowa-grown produce, baked goods, snacks, meals, sandwiches and crafts. Five vendors accept bank debit cards, VISA and MasterCard credit cards and Electronic Benefit Transfer cards. IFMNP/WIC checks and Senior Farmers' Market Nutrition checks are welcome at the market.
The market will be closed July 4 in observance of Independence Day, but open every other Wednesday through Sept. 26. Shoppers may park free across the street from the market, which is a nonprofit, community project sponsored by First Christian Church, the Drake Neighborhood Association and Drake University. For more information, call Ginny Gieseke at 515-277-6951 or visit the market's Web site at http://www.fccdm.org/.