2015 Democratic Debate at Drake University

Campus Map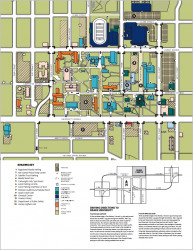 This special DNC Debate campus map shows where to find various Debate Day events, parking, the filing center, space for stand ups,  and the spin room. Physical addresses of each building on campus are here.
From 5 p.m. on Saturday, November 14, until 12:00 a.m. on Sunday, November 15, the following streets will be closed to traffic:
University Avenue between 25

th

 and 28

th

 Streets, including the north sidewalk, which will be closed to pedestrians.

25

th

 Street between University Avenue and Carpenter Avenue, including the west sidewalk, which will be closed to pedestrians.
Debate Day Events, Nov. 14
9 a.m.–noon Politics and Pancakes, Quad Creek Café (Attached to Hubbell Dining Hall)
1 p.m.–3 p.m. Faculty Expert Media Availability, Cowles Library Reading Room
7 p.m. Drake Student Senate Watch Party, Harvey Ingham, Rooms 134-135
Watch the Debate
The debate will air on CBS starting at 8 p.m. CST and will be live streamed here.
Social Media Resources
The official hashtag for the debate is #DemDebate. 
Are you following us? Follow @DrakeUniversity on Twitter. We will be tweeting all week leading up to the debate, during various events the day of the debate, and during the debate itself.
Want more? Take a look at our official Drake University social media directory. 
Contact Us
Looking for directions, a faculty expert, politically active students, or more information?
Who We Are
Drake University is recognized as one of the finest institutions of higher education in the Midwest. The private university enrolls more than 5,000 students, employs hundreds of expert faculty members, and serves as a hub for political engagement—especially during caucus season. More…
Iowa Caucuses
The Iowa Caucus Project, www.iowacaucusproject.org, features a searchable calendar of upcoming campaign events, political analysis by faculty experts, and blog entries by Drake students.
We look forward to welcoming you back to campus for one of our many upcoming political events, which will culminate with Drake serving as a caucus site for at least four Republican and two Democratic precincts on February 1.