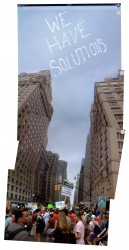 The Anderson Gallery will open a major new exhibition this month titled "Are We Global Yet? The Art and Politics of Public Space (including the virtual)," curated by professor Lenore Metrick-Chen and students from her curatorial capstone seminar.
The exhibition, which runs Friday, Nov. 13, through Feb. 12, 2016, brings together historical maps, student collaborations with homeless individuals in the community, and contemporary artwork from more than 15 artists to ask the question, "Are we global yet?" An opening reception will be held from 5 to 7 p.m. on November 13; in addition, the Anderson Gallery will host a free public symposium titled "Ethics of New Media" on Sunday, Nov. 15. In January, an augmented reality layer will add yet another dimension to the gallery.
The project began as an exploration by Metrick-Chen into the changing functions of public space in our digital world. "Public space is always a negotiation, usually contested," Metrick-Chen said." 'Are We Global Yet?' explores connections between technology and power and between surveillance, protection, and control; and raises awareness of different groups vying to define public space. The selected artworks augment our awareness of ethical issues associated with public spaces, which range from the local (for example, homelessness and political activism) to the global (implications of surveillance and how we represent ourselves and our location on maps)."
Drake students engage in curatorial research 
The exhibition was researched and curated by Lenore Metrick-Chen and Drake seniors Jenna Boures, Paul Brown, Genna Clemen, Hannah Hennessy, Rachael Kreski, Grace Lim, Daniel Nutt, Tyler Poirier and Ryan Topete. The curatorial capstone is designed to engage students in the research, design, and installation of a major exhibition at the Anderson Gallery. It is offered every one or two years and is now in its fifth iteration.
Students in the course broke into teams to examine the area of greatest interest to them and began extensive research on an artist whose work relates to that issue. Many of the students were able to interview artists via Skype or email as part of their research. Focus areas include issues of race, gender, class and nationhood.
One group of students met with a collector from Iowa City who owns more than 50 maps dating from the mid-1500s to the early 1900s. The students were able to explore the political and social concerns expressed in these centuries-old maps, several of which will be displayed in the gallery.
Another group worked collaboratively with a local homeless shelter to display a "day in the life" of a person who is homeless. Working with Drake alumna Terry Thomas, vocational and supportive services manager at Central Iowa Shelter and Services, Metrick-Chen and two students distributed 20 disposable cameras to CISS patrons with instructions to fill the roll of film with photographs. The students will display three of those photo rolls, each from a different homeless artist, at the exhibition.
Additional works in the exhibition include an installation of "All Hands on Deck" by Damon Davis, political mapping by Mark Lombardi, code poetry by Eric Manley and Peter Wildman, photography by Ben Easter and Braden Summers, and interactive works by John Craig Freeman, Ken Rinaldo, Joseph Delappe, Will Pappenheimer, Zach Brady, Annabel Manning and Celine Latulipe.
Gallery will host public symposium "Ethics of New Media" on Sunday, November 15 at the Patty and Fred Turner Jazz Center
The Anderson Gallery will host a free public symposium to explore a range of ethical issues that often go unexamined pertaining to the creation and use of digital technology. Four guest speakers will present at the symposium scheduled from 10 a.m. to 3:30 p.m. Sunday, Nov. 15, in the Patty and Fred Turner Jazz Center. Guest speakers include:
John Craig Freeman, artist and professor of New Media Art at Emerson College in Boston, Mass., discussing augmented reality and the pros and cons of its ability to create markers of events in contested locations such as the Mexican/ US border;
Steve Tomasula, novelist, critic and professor of English at Notre Dame University, in Notre Dame, Ind., discussing access to digital technology and his decision to write books specifically and solely for iPads;
Dorothy Santos, writer, editor and curator based in San Francisco, discussing gender issues—especially the dearth of women—in authoritative positions in the design of digital technology;
Roopika Risam, digital humanities and postcolonial scholar and assistant professor of English at Salem State University in Salem, Mass., on the intersections of social cultural with digital humanities, especially postcolonial and racial aspects of these intersections.
The "Ethics of New Media" symposium is made possible with support from the Center for the Humanities at Drake University. Presenters will speak for 30 minutes each, followed by 15 minutes of questions. Refreshments and light fare will be provided; seating is limited and attendees are encouraged to reserve seating by calling Heather Skeens at 515-271-1994 or emailing heather.skeens@drake.edu. The Patty and Fred Turner Jazz Center is located on the northwest corner of the Drake University's Harmon Fine Arts Center at 25th and Carpenter Avenue. Handicapped accessibility is available from Carpenter Avenue.
Exhibition transforms using augmented reality applications in January
"Are We Global Yet?" will offer an entirely new visitor experience after the holiday break. The exhibition will reopen to the public on January 19, 2016 and although the gallery space may appear to be unchanged, an entirely new installation will be visible in augmented reality. Visitors to the gallery will be encouraged to download a free app on their personal devices or borrow one from the gallery before traveling the space of the exhibition. Using the devices, visitors will be able to see virtual installations in the physical space created by students from Metrick-Chen's January term course. Students participating in the J-term course will work with exhibiting artist John Craig Freeman to develop and implement their creations.
The exhibition is supported by the Walter and Karla Goldschmidt Foundation, the Center for the Humanities at Drake University, Humanities Iowa, and the National Endowment for the Humanities. The views and opinions expressed by this program do not necessarily reflect those of Humanities Iowa or the National Endowment for the Humanities.
About the Anderson Gallery
The Anderson Gallery was established in 1996 as a dedicated space for the exploration of contemporary art and design. Additionally, the gallery hosts curated exhibitions of historically significant work, as well as annual showcases of student work from the Department of Art and Design. We are a not-for-profit branch of the Department of Art and Design at Drake University, occupying a versatile 1800 sq. ft. space on the first floor of the Harmon Fine Arts Center.
The Anderson Gallery is open Tuesdays, Wednesdays, and Friday through Sunday, 12 p.m. to 4 p.m.; and extended hours on Thursdays from 12 p.m. to 8 p.m. We are closed on Mondays and during University holidays. For more information, contact 515-271-1994 or visit www.artsci.drake.edu/andersongallery. Please note, the Anderson Gallery will be closed the following dates for university holidays: Wednesday, Nov. 25 through Monday, Nov. 30 and Saturday, Dec. 19, 2015, through Monday, Jan. 18, 2016.