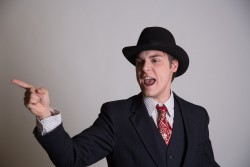 With just a few months left before the Iowa caucuses, the Drake University Theatre Department is delving into the political world with its production of Fiorello! with book by Jerome Weidman and George Abbott, music by Jerry Bock and lyrics by Sheldon Harnick, and original production presented by Robert E. Griffith and Harold S. Prince. Brought to you by special permission from Musical Theatre International.
Fiorello! is a Pulitzer Prize winning musical comedy, which follows the real life journey of Fiorello LaGuardia and his rise to political power. Set in New York City the plot follows LaGuardia from his time as the deputy attorney general of New York in 1915 all the way to his second time running for mayor of New York in 1933.
Fiorello! runs Thursday, Nov. 19 through Sunday, Nov. 22, in the Performing Arts Hall of the Harmon Fine Arts Center. Performances will start at 7:30 p.m. on November 19-21 and 2 p.m. on November 22. Admission is $8 for adults and $6 for students and senior citizens. Tickets are available starting Thursday, November 5 at the Fine Arts Box Office. Visit the Fine Arts Box Office in the south lobby of the Fine Arts Center or call 515-271-3841 for more information. Online ticket sales will not be available for this production.
"I chose Fiorello! originally because it was time to do another classical musical, and I wanted to do a show that featured a lot of strong female characters," said director Karla Kash, associate professor of theatre. "Fiorello! fit that description, and also happened to be a very timely piece, with the upcoming presidential elections."
In addition to telling a political story, Fiorello! also explores the personal side of LaGuardia's life.
Senior musical theatre major Allison Buol plays Thea, Fiorello's love interest.
"It is exciting to represent an Italian woman who actually fought for women's rights in the early 1900s," Buol said. "As I have connected with Thea's passion for justice and her loving nature and hardworking disposition, I have come to fall in love with the character!"
Sophomore musical theatre major Nathan Smith, who is playing the title role of Fiorello LaGuardia, hopes the audience comes to see the show not only for entertainment, but to learn a piece of American history as well.
"The show is one of eight musicals to win a Pulitzer Prize, and the cast has put in a lot of work to make this show a really fantastic production," Smith said. "A lot of the themes are very relevant to today, and it's quite an informative show if you want to learn about the political side of New York during the 1920's. So, please come and see this production, you won't regret it!"